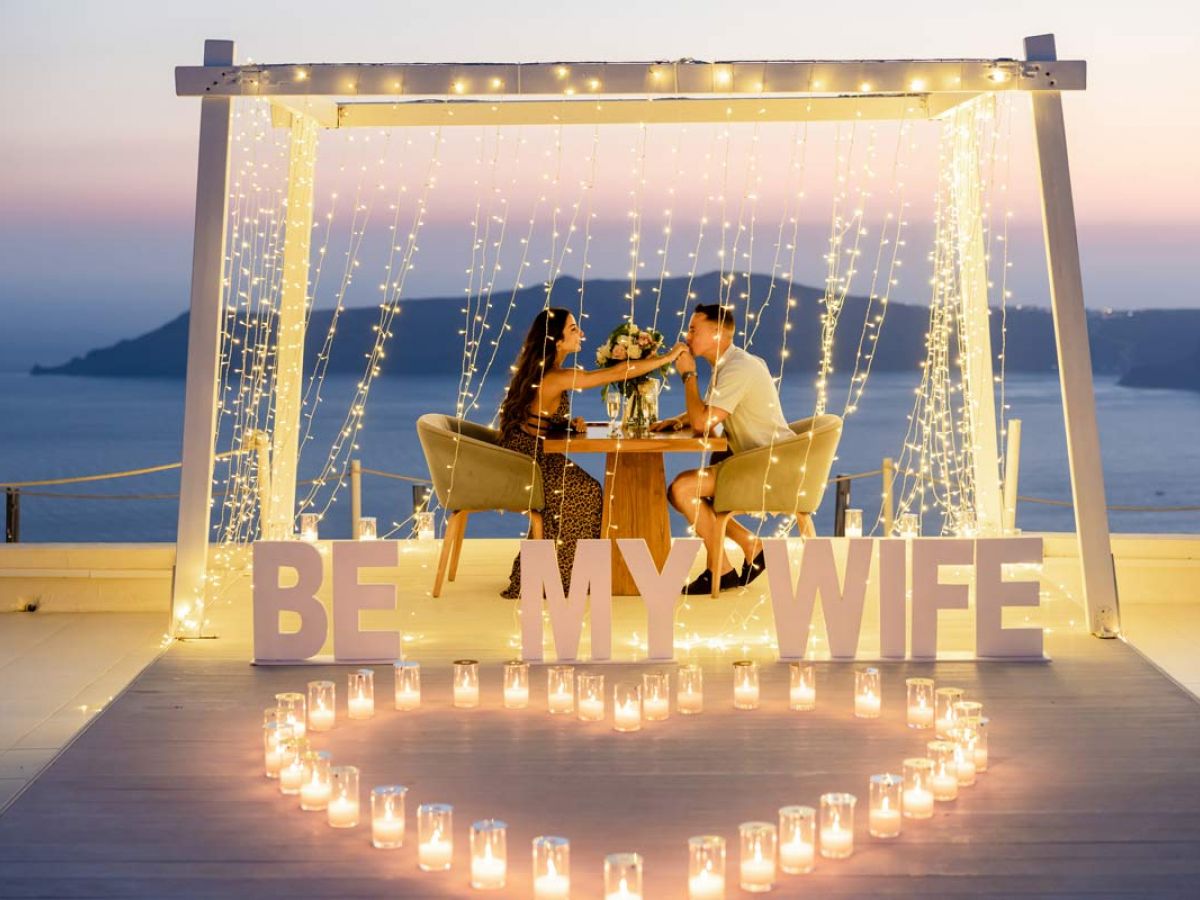 Your Guide to a Wedding Proposal in Santorini
The Island of Santorini is the Perfect Location for a Picturesque and Unforgettable Proposal
Location, Location, Location
Santorini is filled with breathtaking vistas, eye-catching villages, and stunning cliff faces.
So, how do you even begin to choose where to plan your proposal?
Here are some key pointers when choosing a location to get down on one knee in Santorini!
1. Privacy While Proposing in Santorini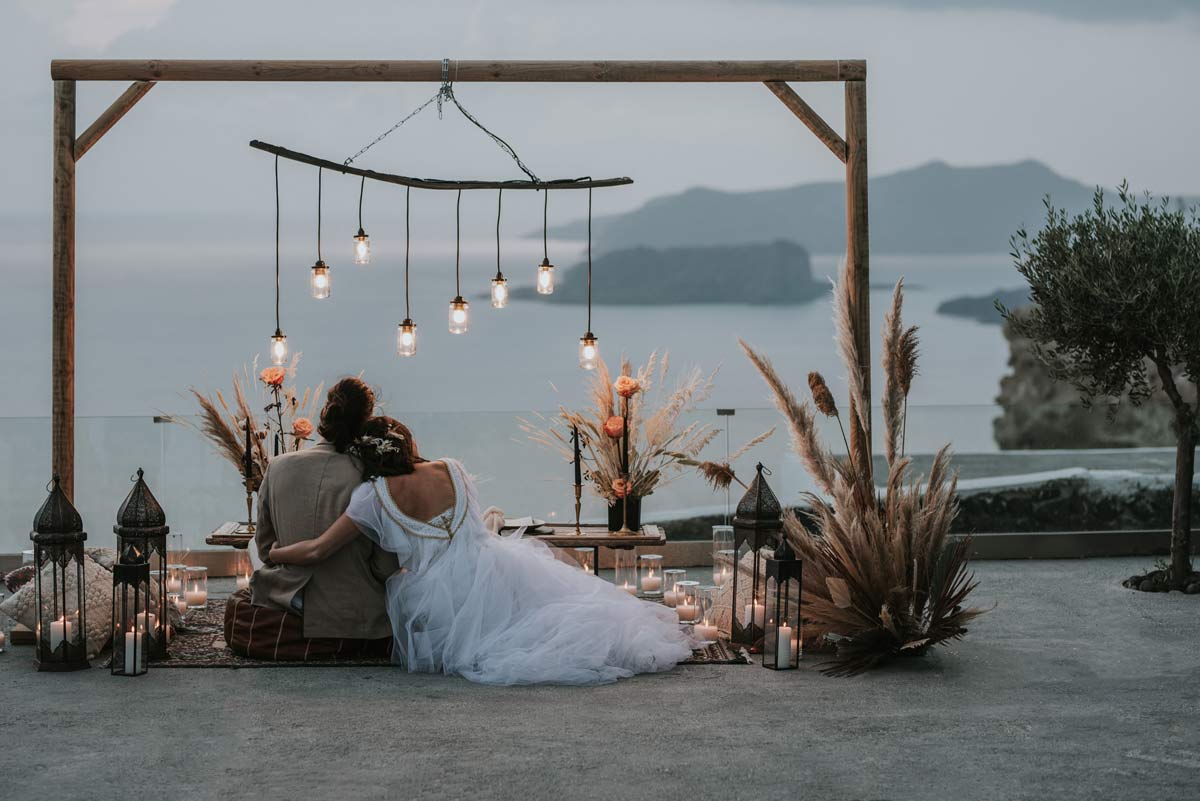 If you're planning to propose in Santorini at one of the peak tourist times, remember that many of the popular locations will be filled with world travelers.
You want your moment to be intimate and private, but it can be challenging to scout a good location if you're not a Santorini local.
Luckily, we can help you find the perfect spot!
You can propose alone out on the sea in a sailboat with a famous Santorini sunset at your back, or you could be on the beach with streamers and the waves chuckling in the background.
We have also arranged proposals at luxury hotels in Oia, and even at the famous Windmill. No matter how you want to set the tone for your perfect Santorini wedding proposal, we can arrange it.
2. Plan Ahead for a Santorini Proposal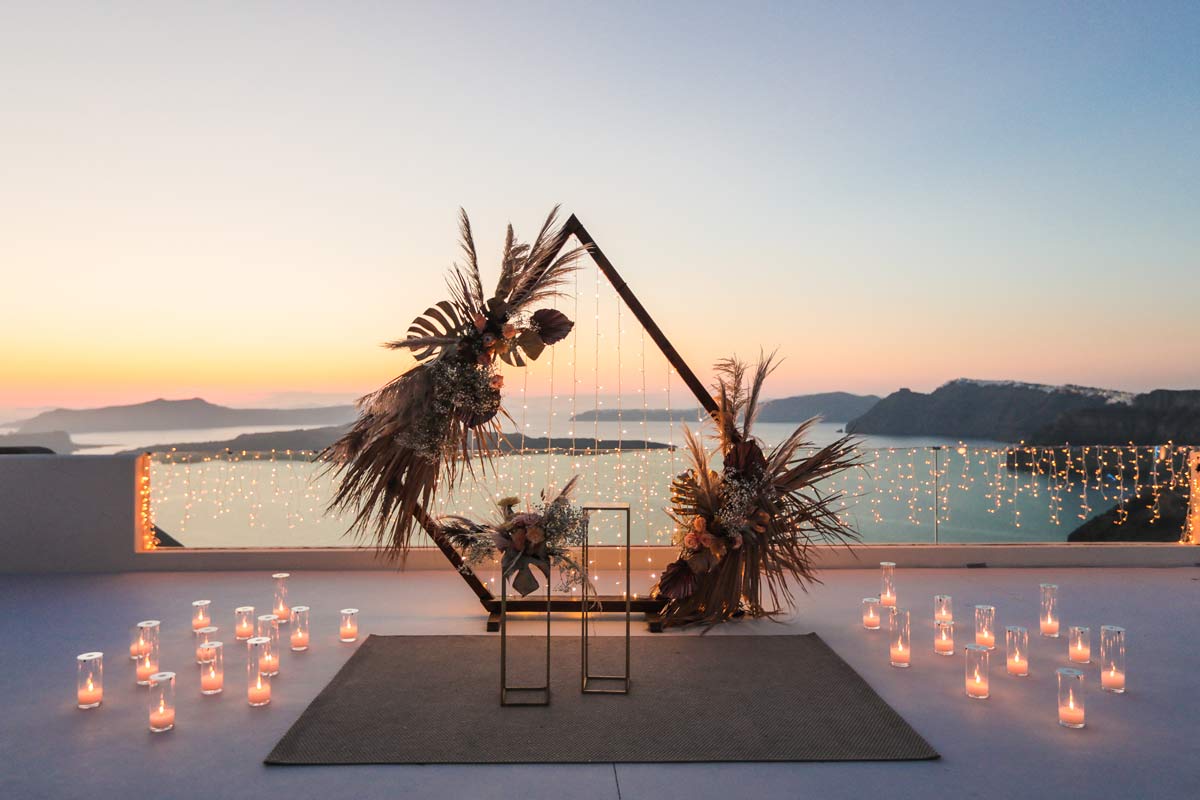 By providing us with a clear plan of the type of location you and your pending-fiancée would love, we can help you put together an idyllic wedding proposal at some of Santorini's most scenic spots.
From a luxury dinner to a beach picnic, every type of proposal is beautiful and unique. You have the opportunity to make yours something that will be significant for you as a couple by having your marriage proposal in Santorini planned by experienced professionals.
3. Keeping Your Santorini Proposal a Surprise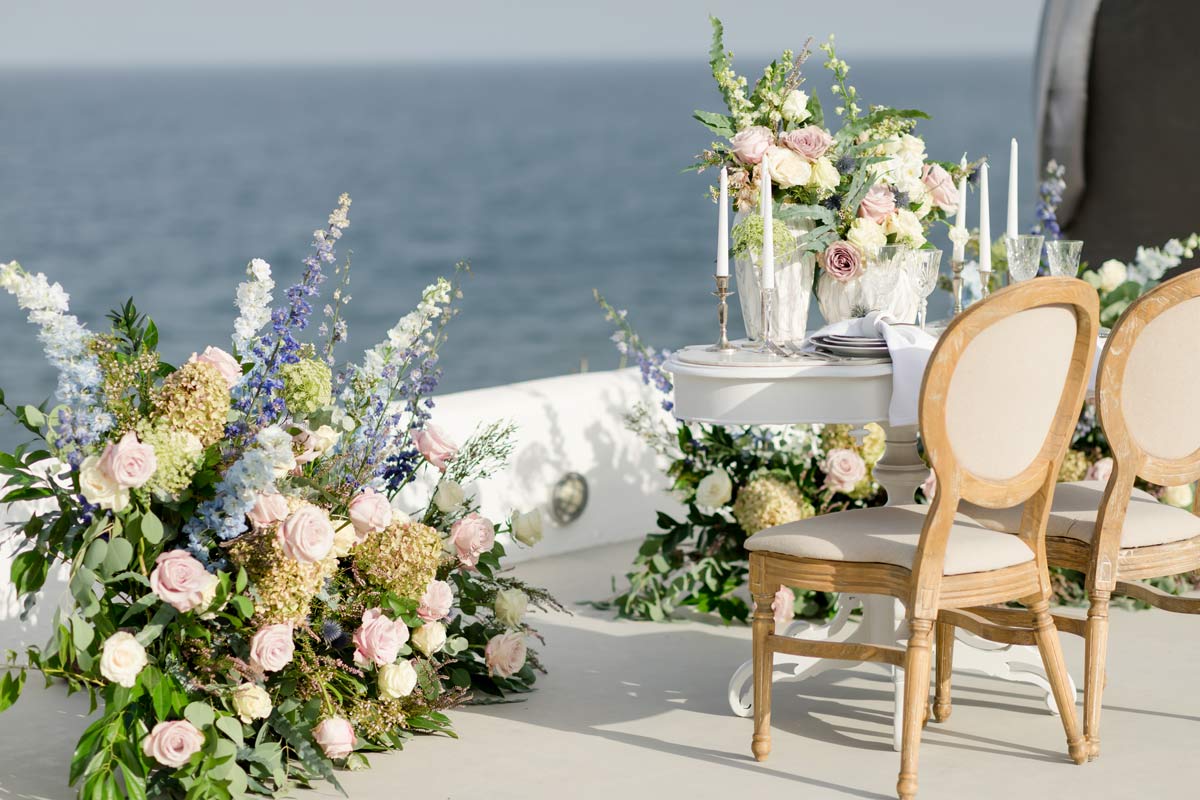 By letting someone else handle the logistics, you can be confident about just showing up and doing the hard work: Going down on one knee!
Let us plan your proposal for you, so you can stay relaxed and keep your partner's suspicions at bay.
The surprise of a wedding proposal shows your significant other how much effort you've put into something for them, and makes the moment that much more special for both of you.
As you get to reveal your hard work, your partner gets to take it all in.
A wedding proposal in Santorini should be as beautiful as it is surprising.
4. Lastly… Make Sure it's Fun
A wedding proposal should be one of the best days of your life.
When proposing in Santorini, you'll undoubtedly be nervous…but we know some excitement is mixed in with those nerves too – and for good reason!
By letting experienced Santorini wedding planners set up the perfect location for a wedding proposal in Santorini, you can make sure it's exactly what you envisioned – AND a ton of fun.
…And maybe you'll let us do your wedding planning in Santorini!
We look forward to making your Santorini wedding dreams come true, from the flower arrangements to choosing the idyllic location for the wedding in Santorini.
Click here to see how we've helped other couples live out their dream proposals and weddings in Santorini – and here to learn how we can do the same for you too!