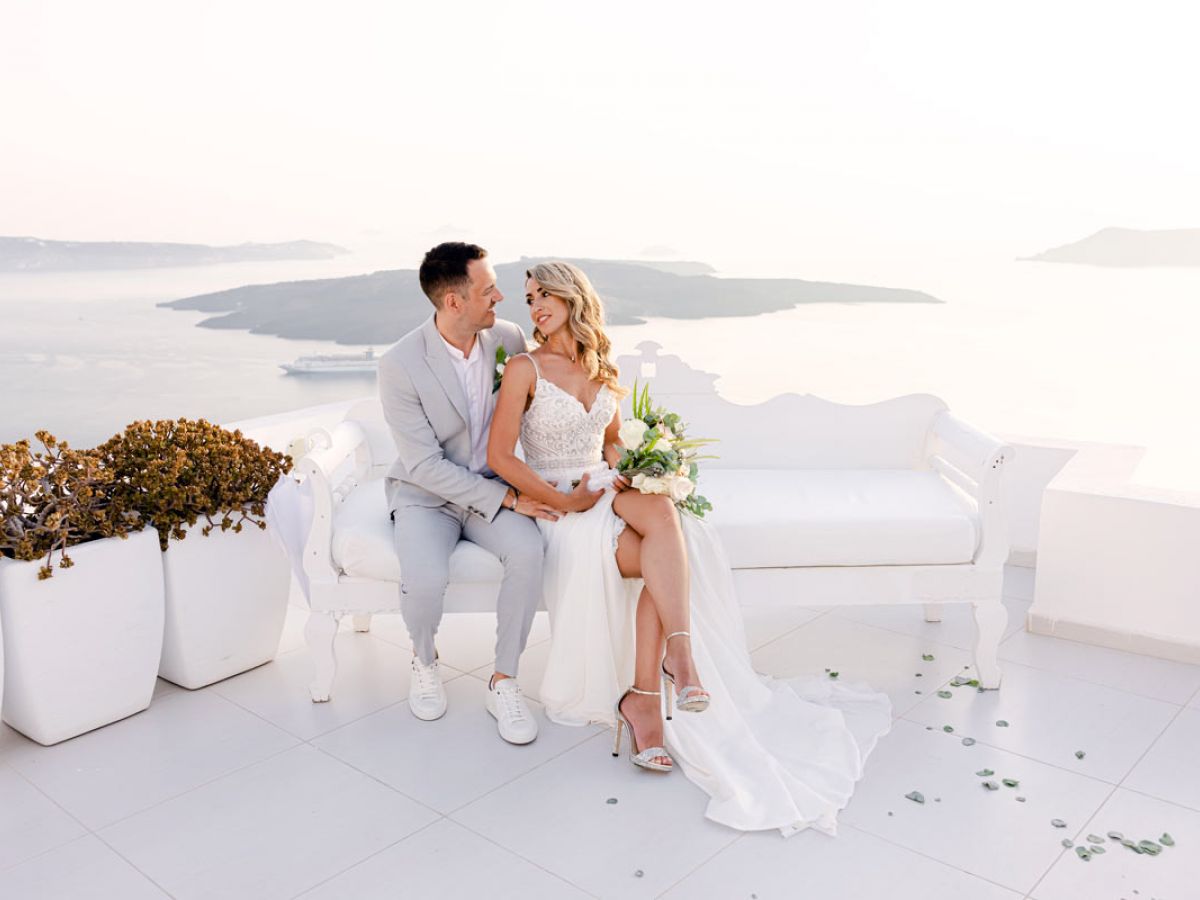 How Much Does it REALLY Cost To Get Married in Santorini?
All Your Santorini Wedding Cost Questions – Answered
Getting married in Santorini is an absolute dream for budding brides and grooms hailing from all over the world.
If you've been dreaming of a Santorini wedding, you've probably started saving already.
And we're not surprised – Santorini is one of the most popular wedding destinations in the world, and for obvious reasons.
The blue domes atop the famous, crisp white building, the iconic caldera and breathtaking cliffs, the beautiful blue waters… Santorini is just as rich in beauty as it is in history, which is why couples from all over the world flock here to say, "I do".
Before we go any further, it's important to note that while getting married in Santorini doesn't have to be completely unaffordable, it's not cheap either.
A Santorini wedding is definitely not for couples with a very small budget who are researching cheap weddings in Santorini.
If you want a truly memorable experience, you must be prepared to pay for it.
But like we said, it doesn't have to be completely unaffordable.
However, this is, of course, entirely subjective.
So, without further ado, let's take a look at how much you can expect to pay for your Santorini wedding, all costs considered.
Bear in Mind!
The below price projections are subject to change, owing to the countless factors that influence weddings – particularly with today's turbulent global economy.
We hope these estimations provide a good reference and starting point as you embark on one of the most exciting times of your life: Planning for your wedding!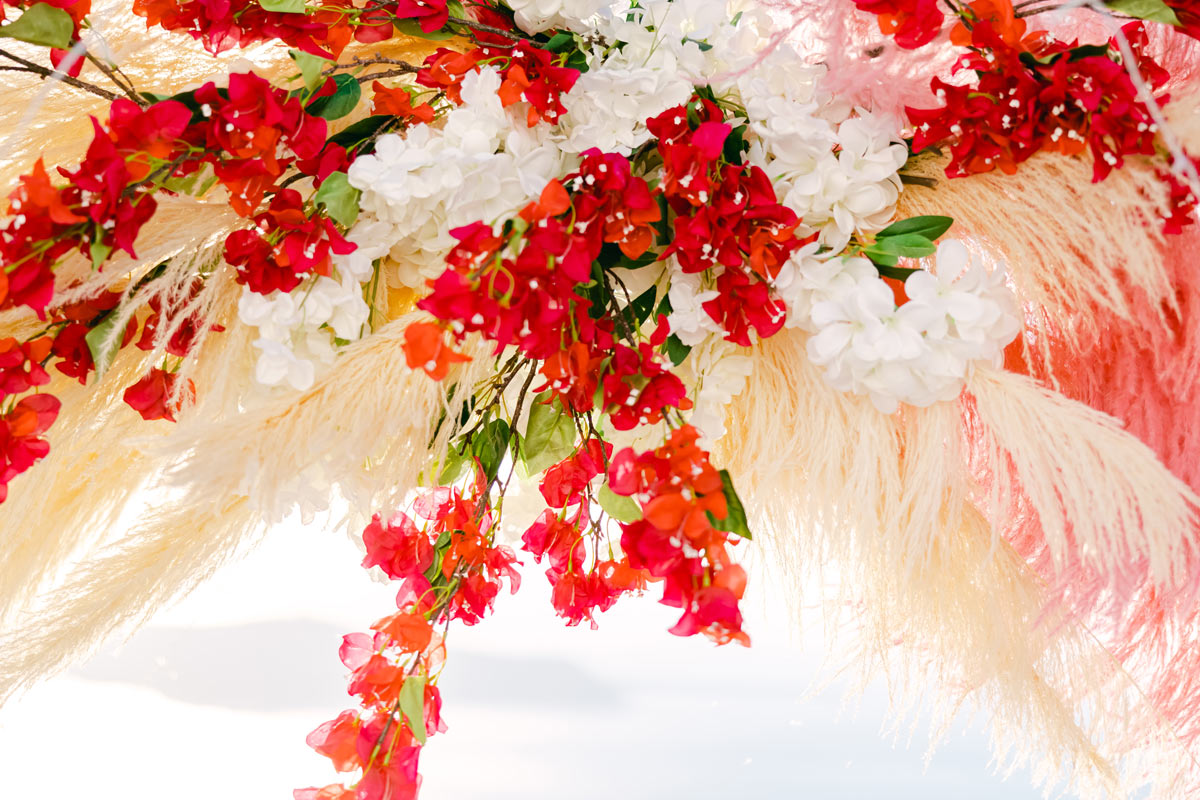 First Thing's First: What Affects the Price of the Venue?
Will you be getting married on the Island's West side, overlooking the volcano and Aegean sea?
Such picturesque views come at a price, and the most expensive wedding venues in Santorini are on the Caldera side.
And before you ask, no – your wedding date will not influence your Santorini wedding costs.
This is a myth and misconception.
The truth is that Santorini wedding venues charge the same amount of money whether you get married on a weekend during peak season, or on a weekday during off-season.
So, don't expect huge savings for getting married in Santorini on a random Tuesday in the middle of Winter.
Wedding Venue Santorini Costs
The "where" you'll host your event should be one of the first things you decide upon when planning your wedding in Santorini.
There is definitely no shortage of venues to choose from on this side of the world, and the price you'll pay will depend on the grandeur you and your spouse-to-be demand.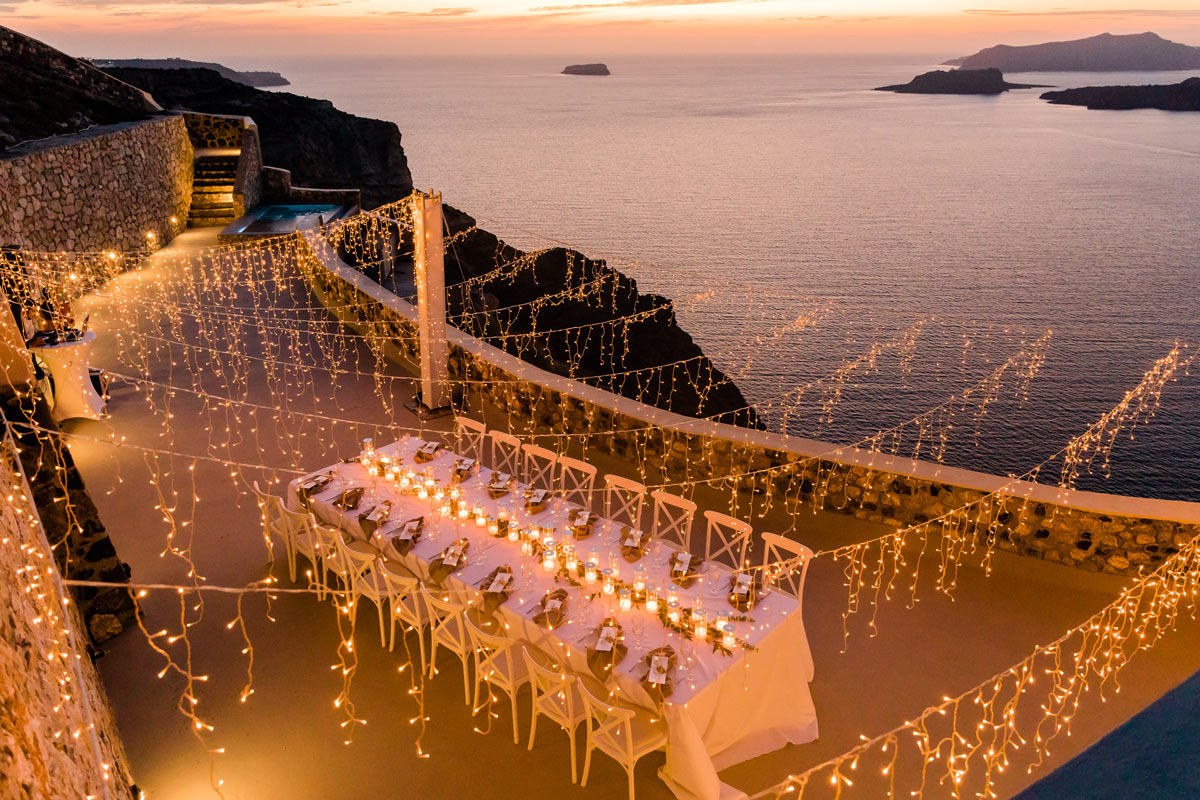 Bear in mind that most couples spend around half of their total budget on Santorini wedding venue costs, so be sure to do your homework and choose a spot you both absolutely adore.
If you're set on saving money, consider hosting your ceremony at a local restaurant in Santorini.
You'll save on exorbitant hotel costs, like cocktails starting from around €12 Euros…
On average, couples spend between 2,000 and 5,000 Euros on the rental fee for their wedding venue in Santorini, but again, this depends on the location as well as how many guests you'll be inviting.
Obviously, the bigger your guest list, the more you can expect to pay – especially for catering, whereby companies charge per "head".
Keep this in mind when planning and budgeting for your wedding in Santorini.
Your Santorini wedding venue costs will also depend on whether you host the ceremony and reception at two separate locations, or if everything will happen in the same place.
Generally, ceremony venues charge less than reception locations, seeing as you will spend less time at the ceremony than the after party.
Remember that this also does not include catering – the venue fee is exactly that, the venue fee.
If you want to save money, be sure to check out what Santorini wedding packages are available to you, many of which cover the ceremony, reception, catering, and more. Otherwise, if you're not ordering a package, most Santorini wedding venues charge a site fee and expect you to bring an outside caterer to the event.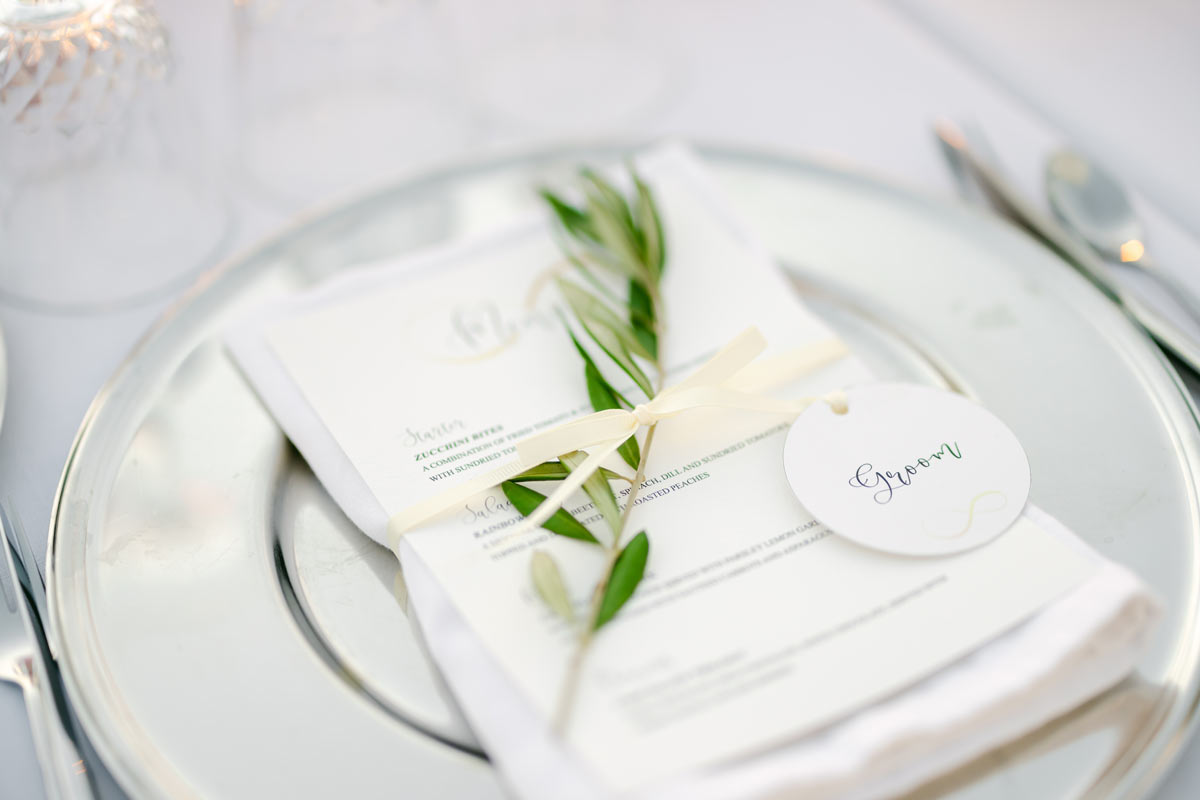 It's also important to remember that just because you're getting a Santorini wedding package doesn't mean you'll pay less.
Some "all-inclusive" options actually end up costing more, for convenience's sake.
A smart way to save, though, is to find a wedding venue in Santorini with their own in-house vendors.
You could save big-time by not having to bring in your own external vendors for your ceremony in Santorini.
A good way to save money is also to host your official wedding in your home country, and organize the ceremony in Santorini.
This way, you won't need to worry about the costs of legalizing your marriage on the Island and making sure that it is legally binding.
Here Are Some More Average Santorini Wedding Costs That You Should Be Aware Of…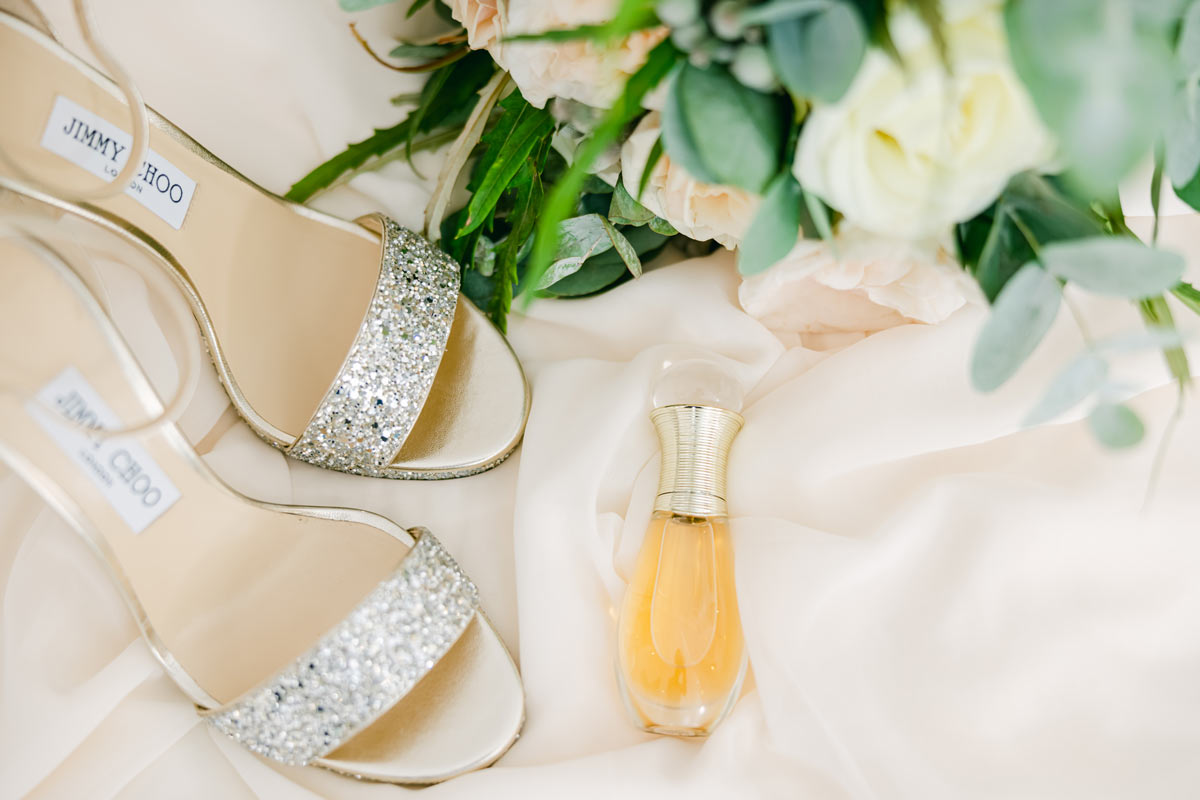 Reception catering: €80 - €250 per head, depending on the menu (food only no drinks)
Reception décor: €800 - €15.000, depending on extravagance and intricacy
Wedding DJ: €850 - €2100 for around 6 hours of music, on average
Bridal bouquets: €180 - €350
Wedding rings: €1,000 - €3,000
Wedding makeup: €225 - €320, depending on preferences
Wedding hair styling: €220 - €350,
Wedding cake: €150 - €1000
Photography: €2600 - €6000 (ALWAYS request a portfolio to make sure you're happy with your decision…)
Wedding car: €120 - €2.500 depending on make and model etc.
Unexpected Wedding Costs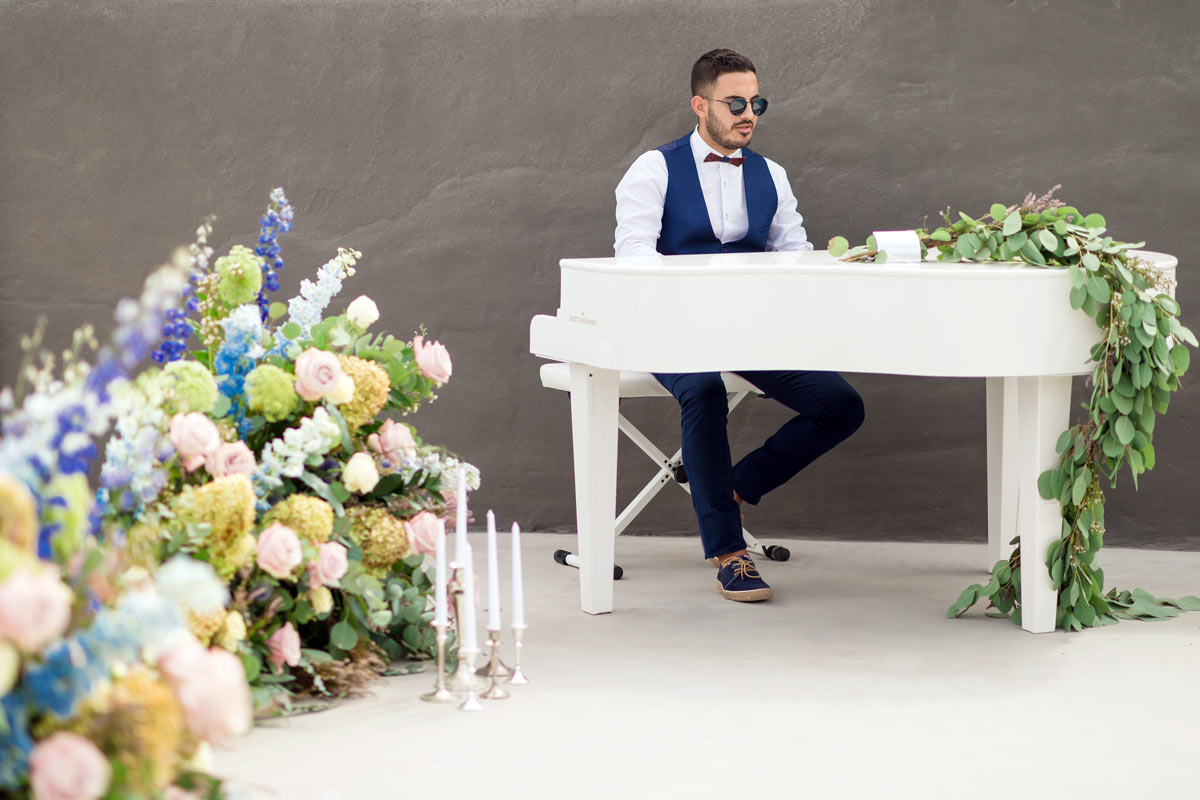 It would be incredibly unwise to save just enough to cover your Santorini wedding costs, with nothing to spare.
Life is full of surprises, and weddings are no exception.
In fact, a good rule of thumb is to add around 10% of the total wedding cost to your budget for contingency's sake.
You never know what's going to happen, and you don't want to be left without a backup plan should unexpected wedding costs arise, which is particularly common if you're getting married at one of the most popular wedding destinations on the Island.
A Handy Tip…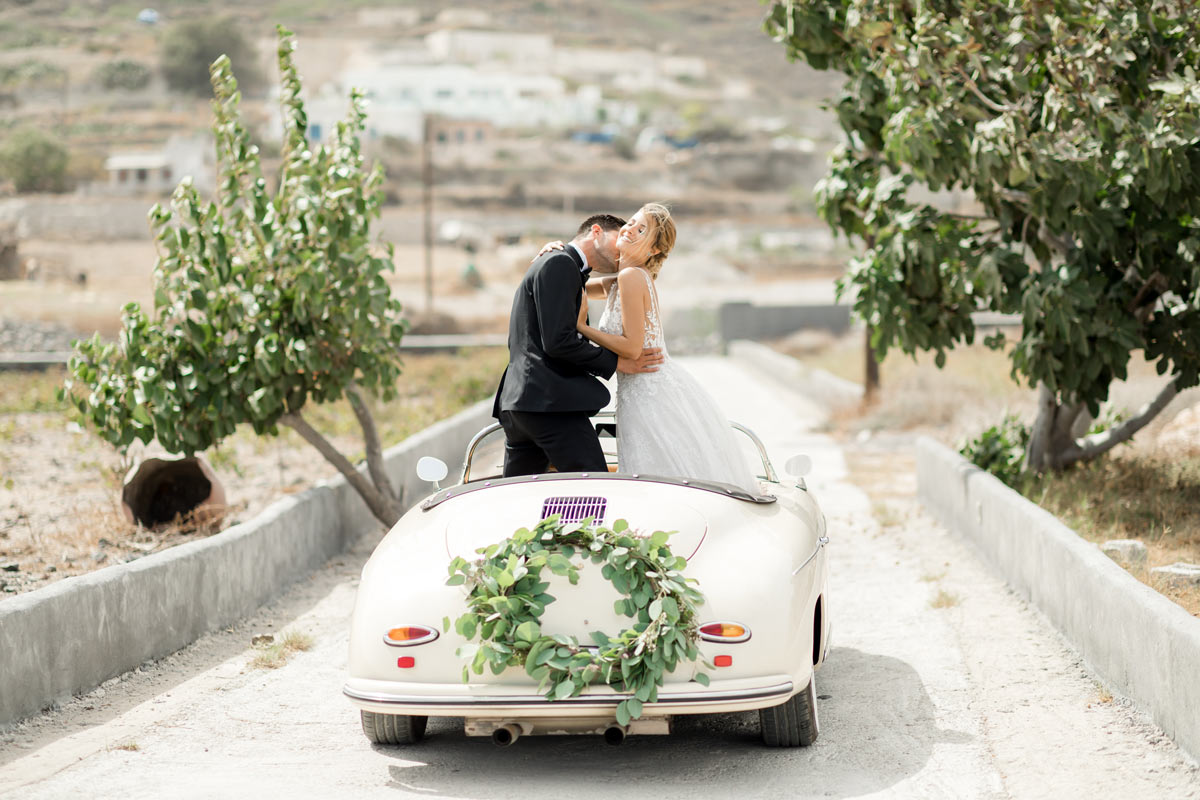 No one likes asking for money, but when it comes to wedding gifts, consider asking for honeymoon contributions.
You can also use any cash you receive to refuel your financial reserves after something as expensive as a Santorini wedding!
As you can see, the cost of getting married in Santorini can really add up, but it doesn't have to be unaffordable.
At the end of the day, the price all depends on what you are willing to compromise on.
Think about it: One day, when you look back on your ceremony in Santorini, will you regret having cut costs and corners?
It is entirely in your hands.
Contact Unique & Forever today to find the most ideal wedding venue in Santorini that meets all your hopes and dreams, while saving as much money as you possibly can with our range of Santorini wedding packages.
We can't wait to work with you to plan the wedding of a lifetime in Santorini.
We'll be ready when you are!