Planning the Perfect Wedding After Party
6 Common Questions Answered
Planning a wedding is a marathon on its own.
Throw the reception / party prep into the mix, and you've got a recipe for a very strained adrenal gland.
If your cortisol levels are higher than they've ever been – and you feel like you can't breathe through the air of stress and anxiety – inhale. Exhale.
We've got your back – and your wedding after party – covered! Make a cup of chamomile tea and read these 6 top tips from the best Santorini wedding planners, covering all you need to know when planning a wedding party.
1. Who Should Throw (and Pay for) the Wedding Party?
Traditionally, the Santorini wedding after-party should be hosted by the same busy bees as the wedding.
If that's you, then that's you.
Many couples choose to have a cash bar, giving the venue a certain amount upfront to cover each guest's individual drinks.
In fact, many venues make open bars mandatory. However, this can end up being very expensive. Couples with bigger budgets normal foot the bill of an open bar, but if you don't have thousands in the bank, consider at least offering water and wine.
It's the polite thing to do.
2. WHERE Should I Throw the After-Party?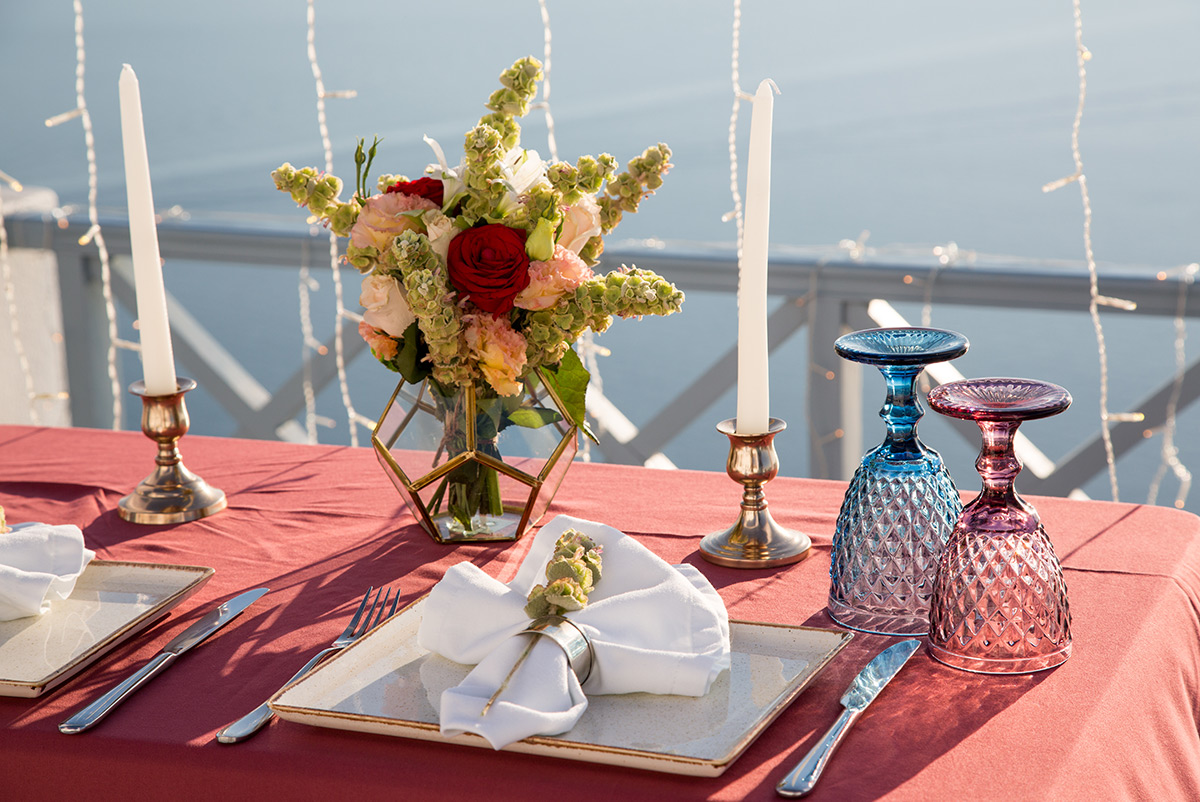 This all depends on what you have in mind and what your Santorini wedding venue restrictions are financially.
You don't have to host your wedding party at the same venue as the ceremony, but if you don't, make sure your guests know how to get to the next stop.
Depending on your budget and party food preferences, your wedding planner in Santorini can bring the respective space to life – whether the venue is the same as the ceremony or not.
The good thing is that you don't have to worry too much about fancy décor at your Santorini wedding reception party – people will already be sufficiently…relaxed by this time.
Set the mood with the basics, including plenty of snacks, but the mood and energy are more important here.
3. WHO Should I Invite?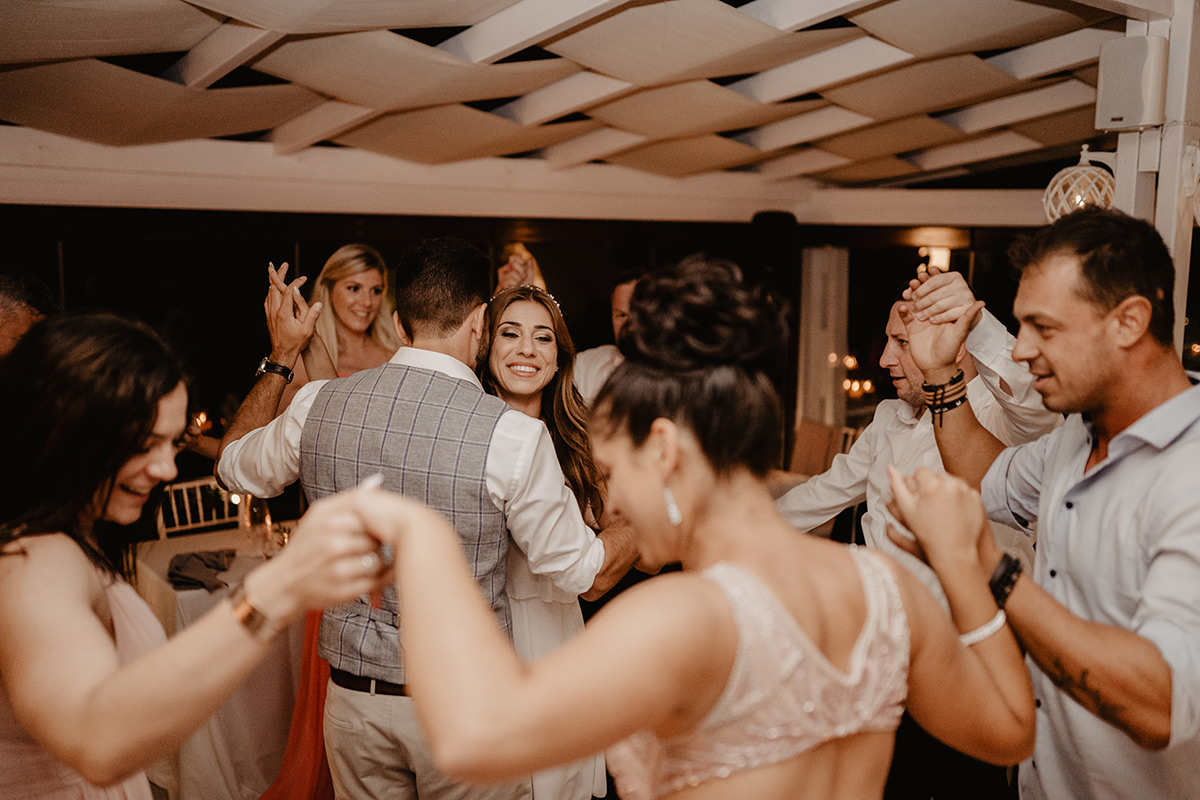 As a matter of wedding etiquette, everyone who made the effort to attend your wedding should be invited to the wedding party.
However, keep in mind that kids and senior guests might not be interested in dancing into the early hours of the morning.
Invite them anyway and make sure all the details are included on the wedding invite itself.
Worried about how you'll transfer the ones who do want to attend?
The best wedding planners in Santorini – like Unique and Forever – can arrange everything on your behalf.
4. How Can I Plan for the After Party Financially?
Brides- and grooms-to-be are notorious for spending small fortunes on their Santorini wedding itself – without realizing that the after-party also costs a pretty penny.
In fact, while the wedding ceremony will probably last less than an hour, the wedding party could rock on until around midnight.
The caldera closes between 23h00 and 01h00 – but there are exceptions.
Do you have enough snacks? Can you afford the DJ's overtime if your guests refuse to leave the dance floor?
Take all of this account and be prepared by keeping your budget flexible.
And remember that if all your guests leave and you want to keep the party going, the best wedding planners in Santorini can transfer whoever is left to a bar in Fira (for an extra cost of course).
5. When Should the Wedding Reception Begin?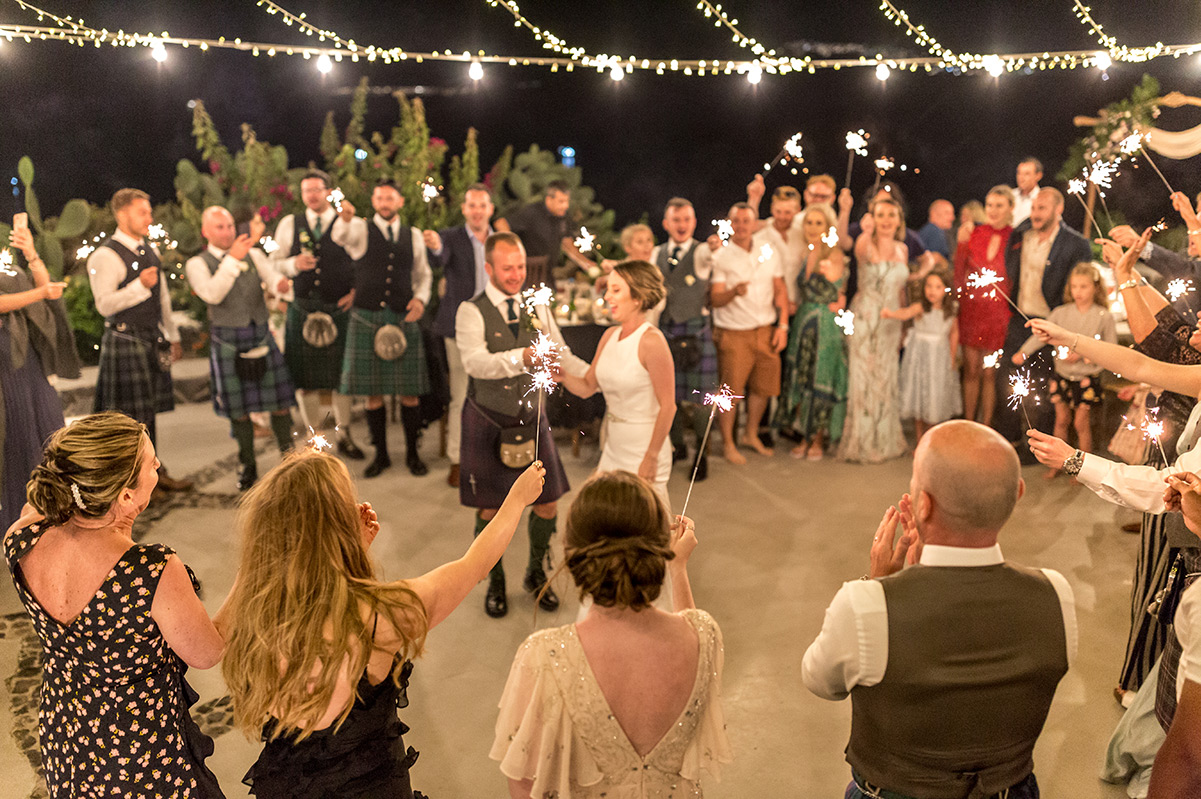 Santorini elopement after-parties typically occur on the same day as the ceremony – usually right after the reception.
Depending on the wedding venue in Santorini, the cut-off for music and socializing may be between 11pm and 1am.
6. Should the party be indoors or out?
Most wedding venues in Santorini are outdoors, but if you do choose to host your event outside, it's important to ensure sufficient lighting so that guests can see and eat comfortably.
You also want to present the location beautifully!
We hope this helps, and remember – if you're still pulling your hair out and struggling to breathe when planning your wedding party, relax knowing that Unique and Forever is here for you.
No matter your budget, you CAN host a beautiful wedding in Santorini! Our Santorini wedding planners can take a huge weight off your shoulders, so you can breathe again and actually focus on what matters: Getting excited for one of the best days of your life!