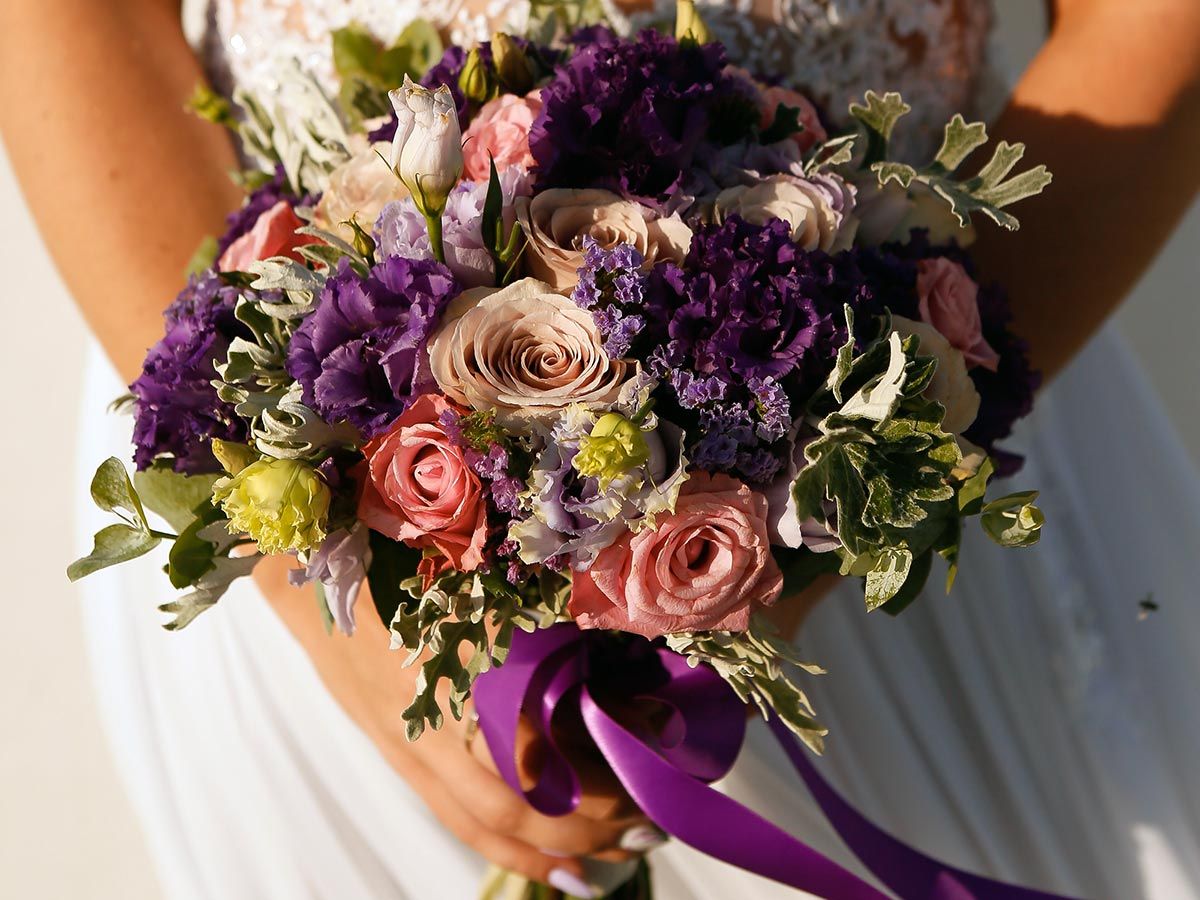 3 Wedding Color Trends for 2022
Pretty in Pantone, Earthy Tones, and More
Getting married is about so much more than just, well, getting married.
Trends change faster than the blink of an eye.
Themes and color palettes are undoubtedly one of the first things any bride and groom will focus on when planning their Santorini wedding. From décor to flowers to your dress, choosing a color palette can be overwhelming – but it doesn't have to be.
If you're planning a wedding or Santorini elopement in 2022, then here's what you need to know.
1. Pretty in Pantone
This standardized color matching system recently named "Very Peri" as its 2022 color of the year.
This curious blend of blue and red showcases a kind of "carefree confidence" and creativity, and brides worldwide are embracing Very Peri for their wedding themes.
If you want to look back on your wedding as the on-trend shindig of the decade, then consider this unique, forward-thinking shade.
Very Peri gives brides and grooms plenty of flexibility.
Try adding it as a pop of color for various nuances at your Santorini wedding venue, like the bride's tie, your flower arrangements, bridesmaids dresses, your eyeshadow – the possibilities are infinite with this 2022 color of the year!
2. Neutral Colors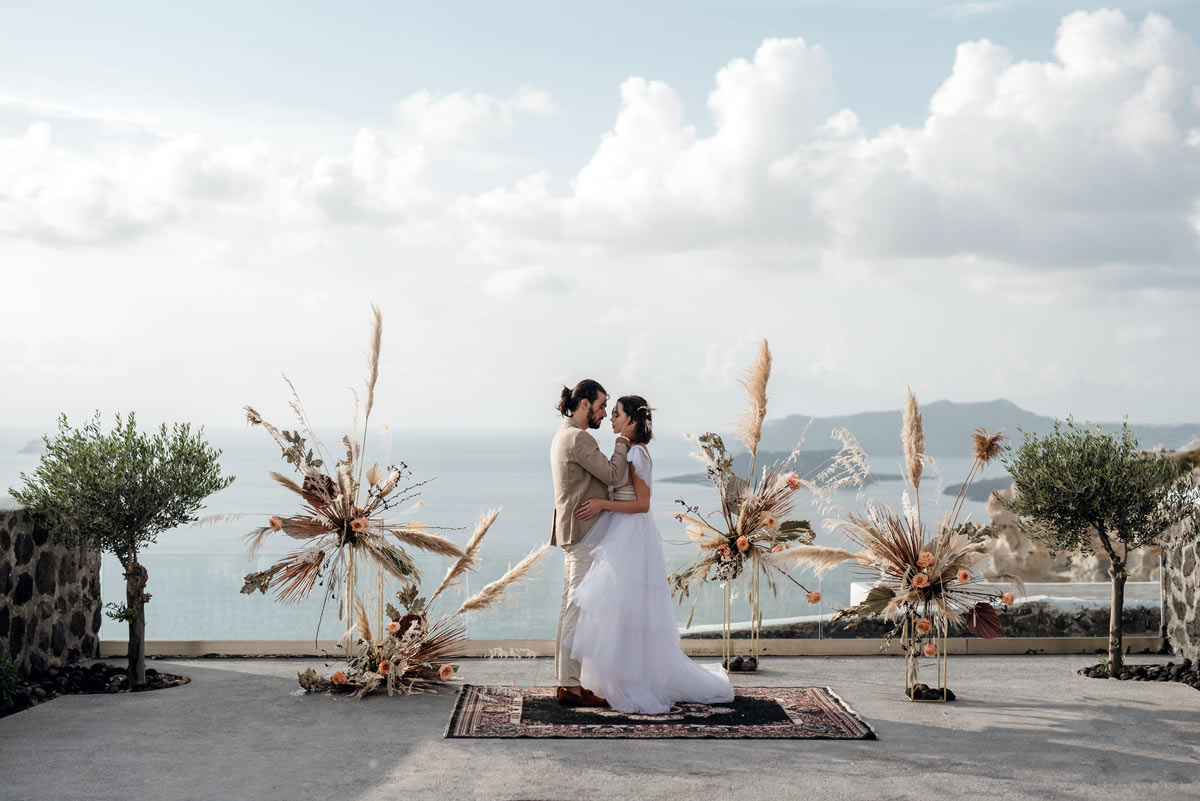 If "Very Peri" isn't your vibe, consider neutrals – they never go out of fashion. Think whites, creams, and subtle greens.
Neutral colors work best when layered as textural elements, giving your Santorini wedding venue more depth and dimension.
The best part about neutrals is that they work no matter the season – but they exude a particularly breathtaking aesthetic during late summer and early fall Santorini weddings.
If you're considering getting married in mid-to-late fall, Earthy shades of brown might work better.
3. Yellow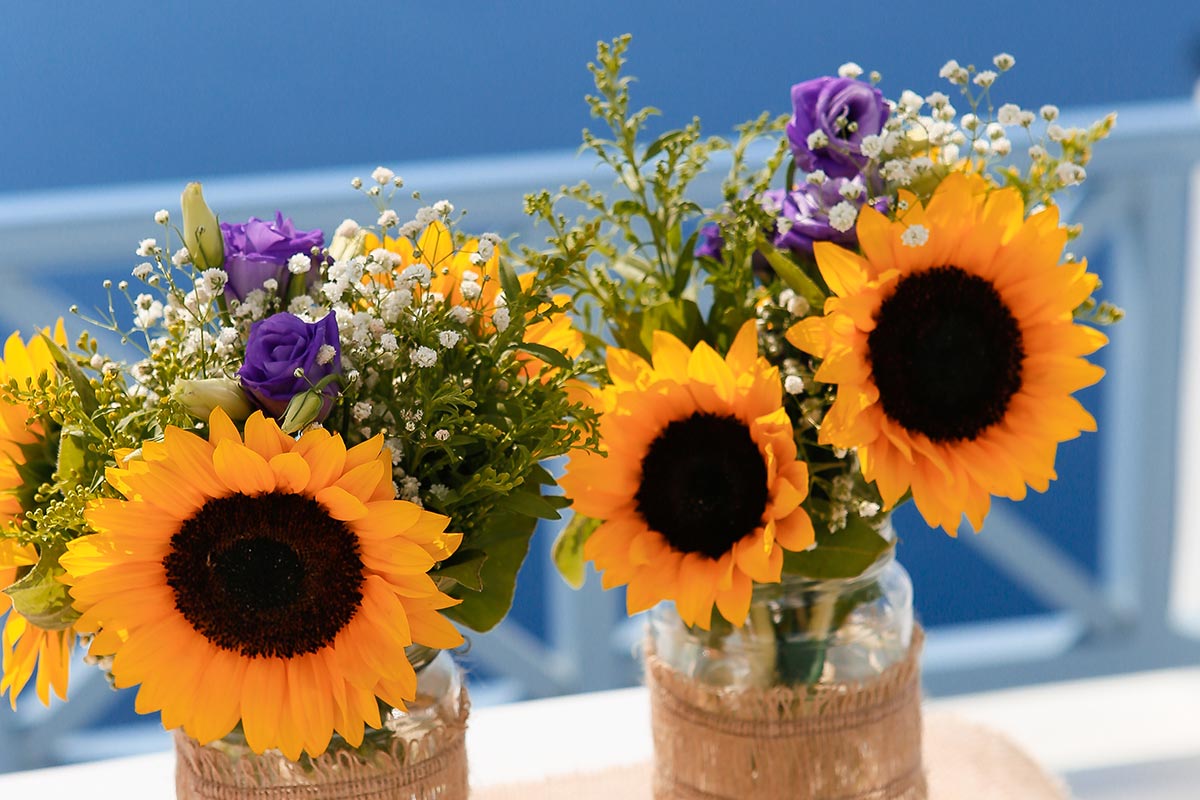 Yellow as long been a symbol of joy, making it very apt for the most special day of your life.
The top Santorini wedding planners and international experts love working with yellow, seeing as there's such a wide range of hues to work and play with.
Yellow works in any season, reflecting hot summer weather or brightening up the cold of winter.
Yellows with white bases are sunnier, and those with a browner base offer a warmer and more sophisticated feel. It all depends on what time of year you'll be getting married, and what Santorini wedding venue you choose.
Master Your Wedding Color Palette in 2022
Contact Unique & Forever Today
We've planned Santorini weddings of all shapes, sizes, and color schemes.
No matter what you've got in mind – and even if you don't have anything in mind yet – we can help you explore the wedding color trends for 2022 and make the best decision possible.
Start a conversation with our Santorini wedding planners today to make sure your Santorini elopement or ceremony is colored for success!
We've got a wide range of Santorini elopement packages available, and we can't wait to show you what your Santorini wedding can look like.