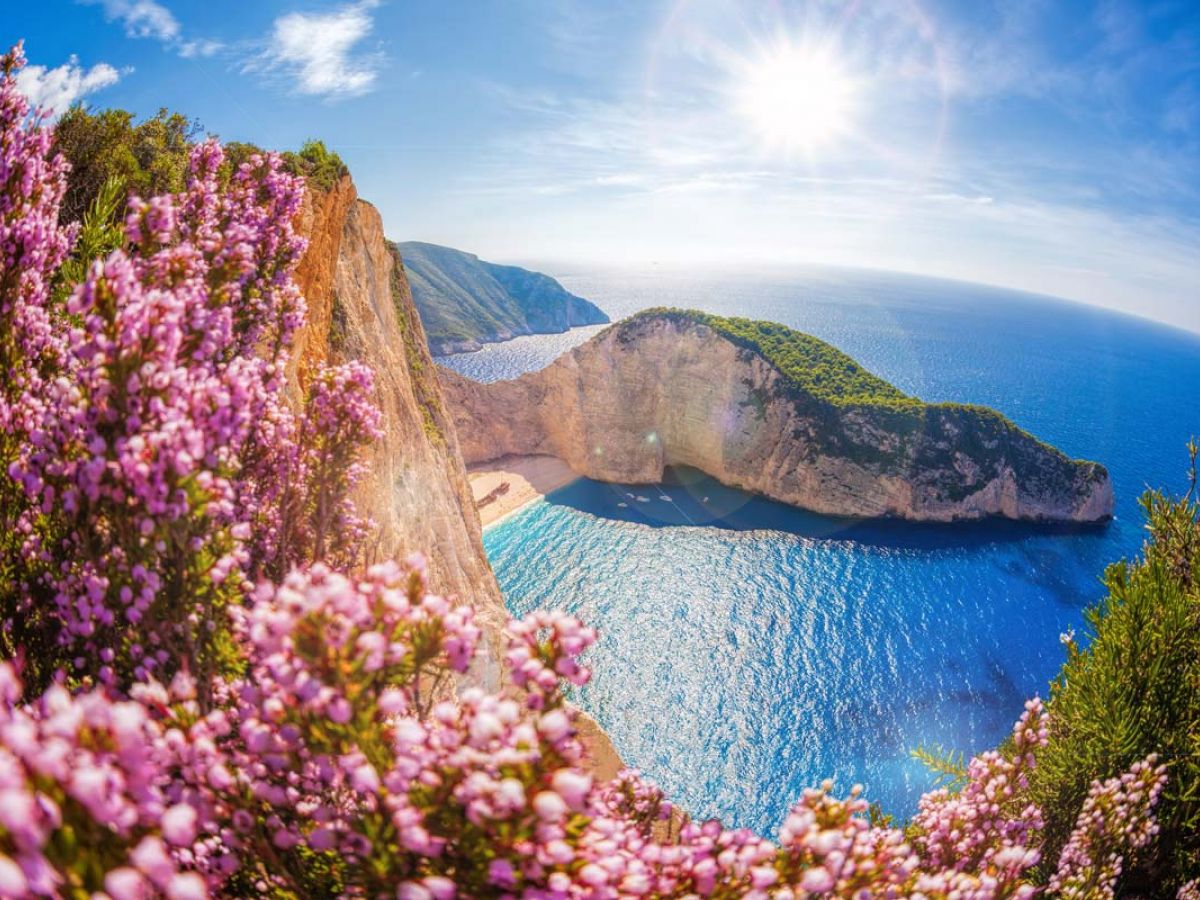 The 12 Best Wedding Destinations in Greece
Say "I Do" in Ancient Olympia!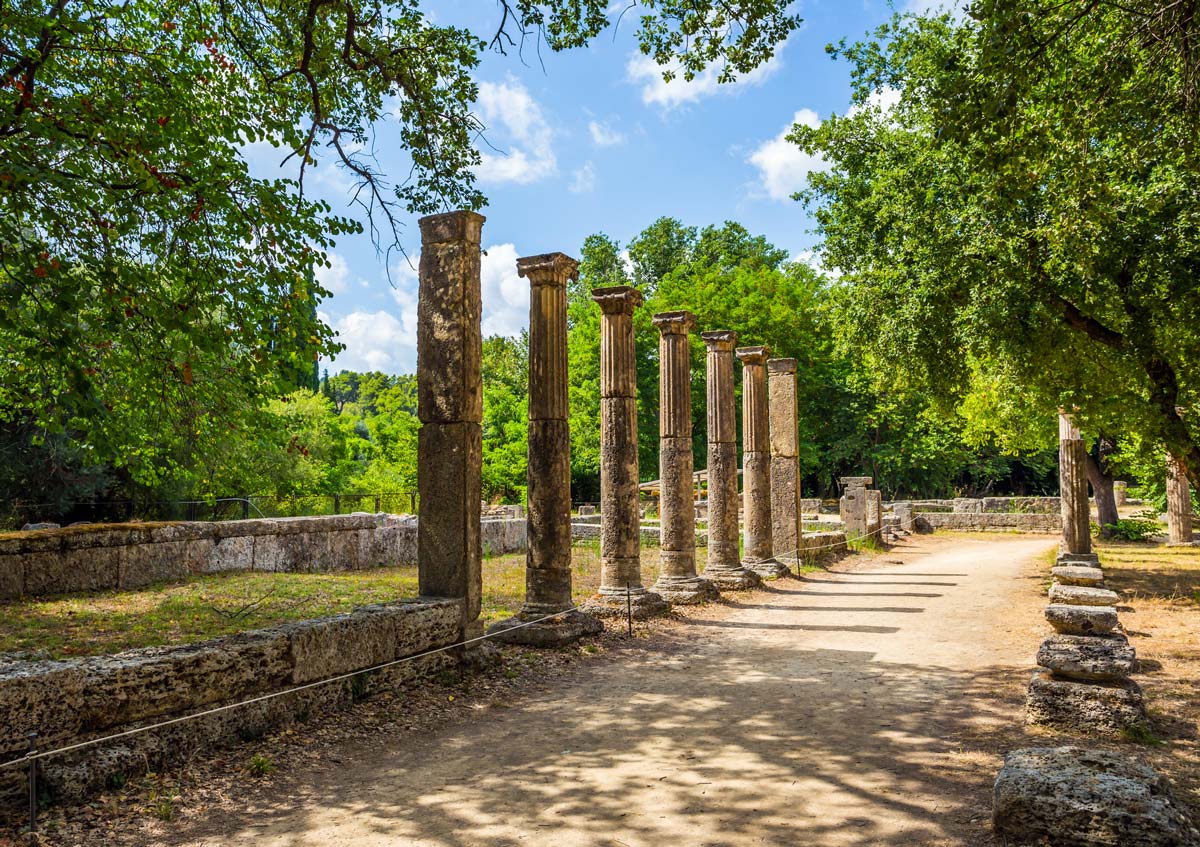 Getting married is a huge decision, and it will be one of the most special days of your life.
The last thing you want to walk away with are sub-par memories in an average wedding venue no one will remember.
If you want yours to be the wedding of the century, think bigger. Think beyond the borders of your home country.
Think Greece – undoubtedly one of the best places in the world to get married!
Why Get Married in Greece?
From Athens's famous archeological treasures, to Crete's gorgeous Mediterranean beaches, to Santorini elopements with Insta-worthy views and white-washed buildings, there's something for every kind of couple on this dramatic side of the world.
Before we dive into some potential wedding venues in Greece for you to tie the knot in, here's why we reckon you should consider Greece as your wedding destination in the first place.
1: Tradition & Hospitality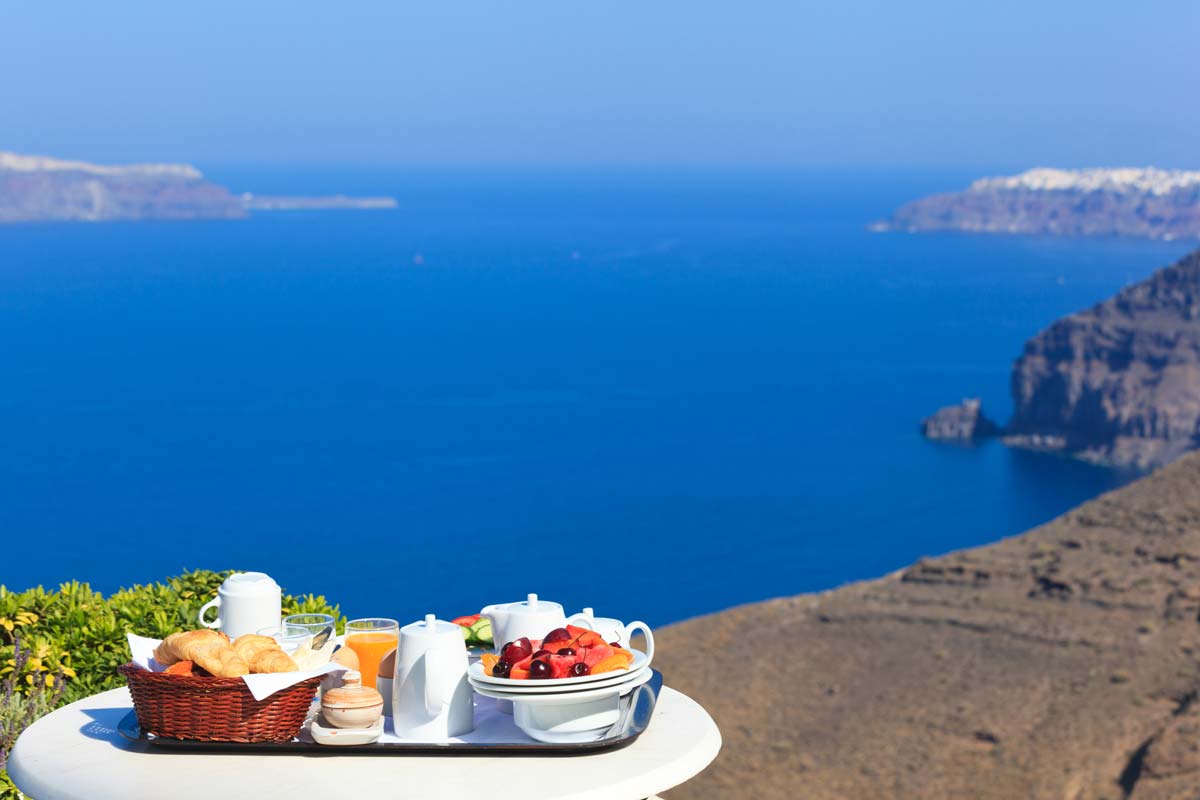 Greek locals are known for being friendly, welcoming, and always willing to help.
They also aren't shy to share their local wisdom to make your wedding as memorable as possible.
And it's not hard to see why Greek people are so happy all the time. We mean, just look at where they live!
2: Beautiful Surroundings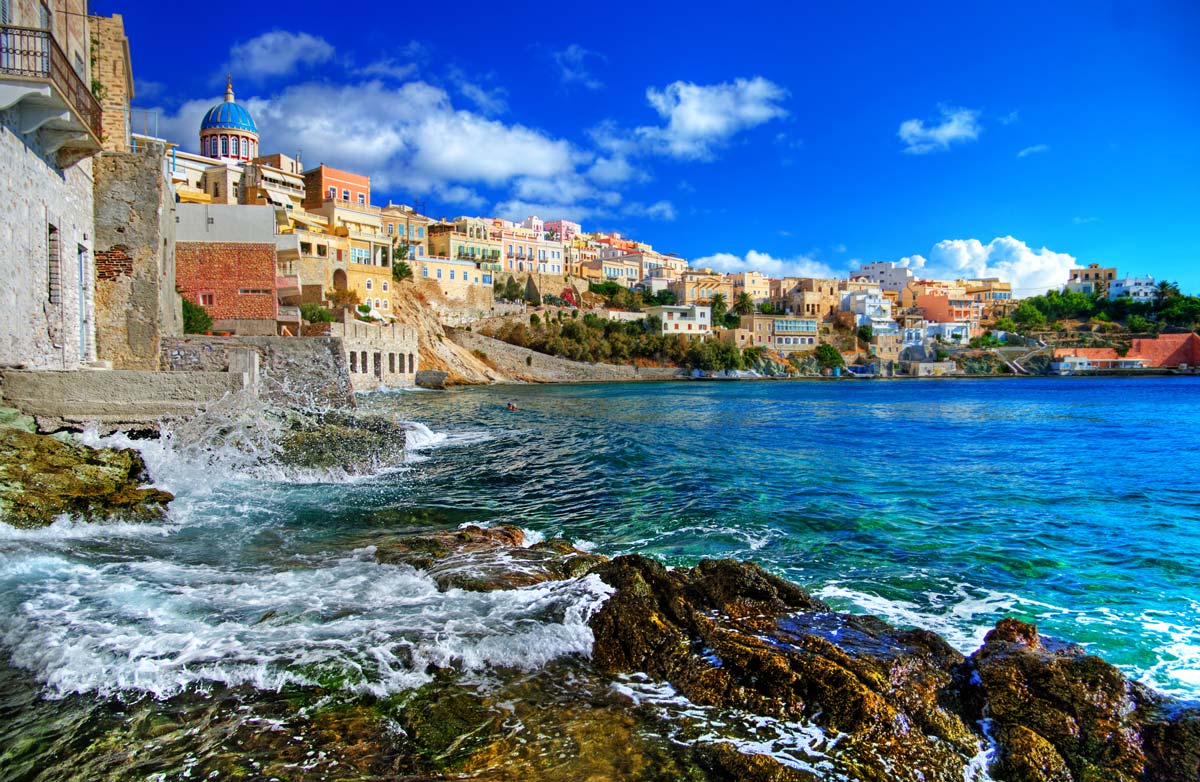 Sand. Sea. Sun. Fun.
Greece makes a breathtaking wedding and honeymoon destination thanks to its magnificent, world-famous backdrop.
Greece is world-famous for its romantic sunsets, crystal-clear waters, and beautiful beaches.
This truly is an island paradise simply begging to be explored.
One of the best places in the world to get married, hands down!
3: Food, Glorious Food
It's no secret that Mediterranean cuisine is some of the most spectacular on Earth.
It's delicious, it's healthy, and its varied enough to cater to the preferences of everyone on your guest list.
From Moussaka to Papoutsakia to Pastitsio, you'll have no shortage of exciting new meals in your repertoire!
4: Island Style Fun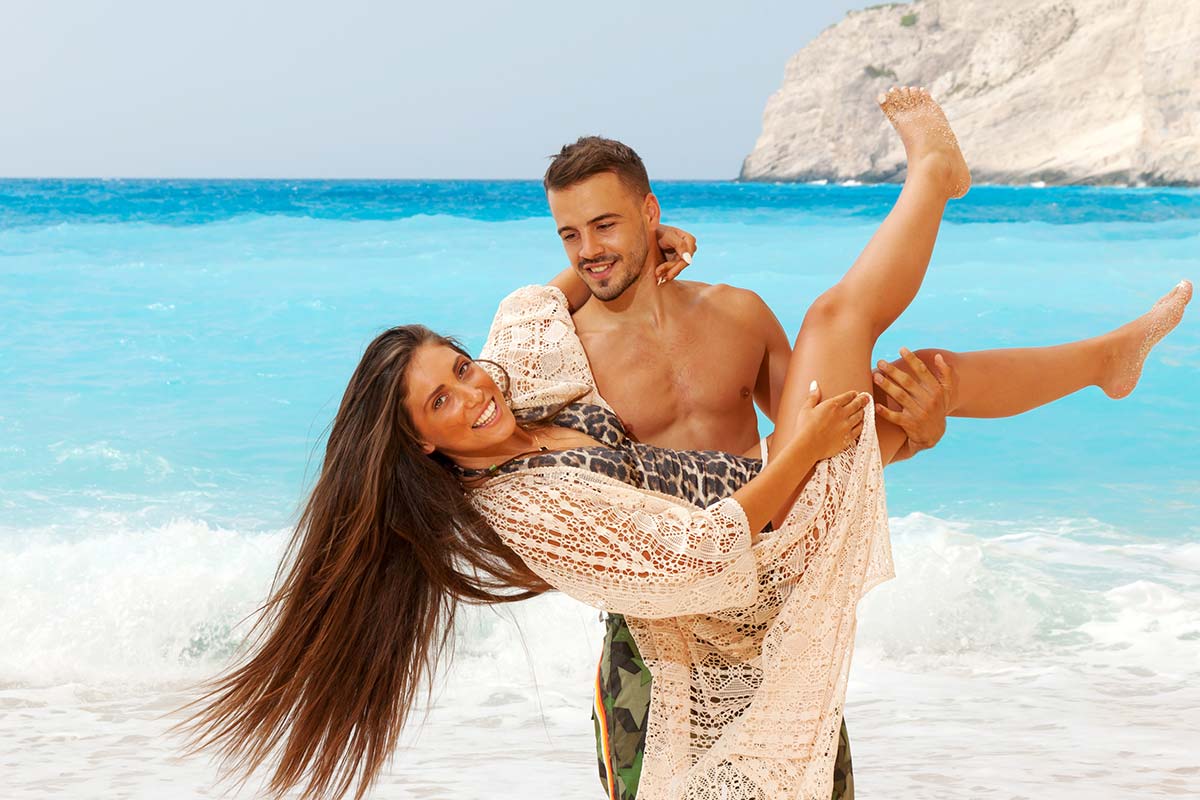 Once the rings are on and you've signed the dotted line, Greece is bursting with opportunities to make fun memories with your new spouse.
Sail the day away, explore the nation's hidden beaches and secluded coves, explore ancient temples and archeological sites, and so much more!
Did you know that Greece has more than 9,000 miles of coastline, the most in Europe?
It's true!
5: Rich History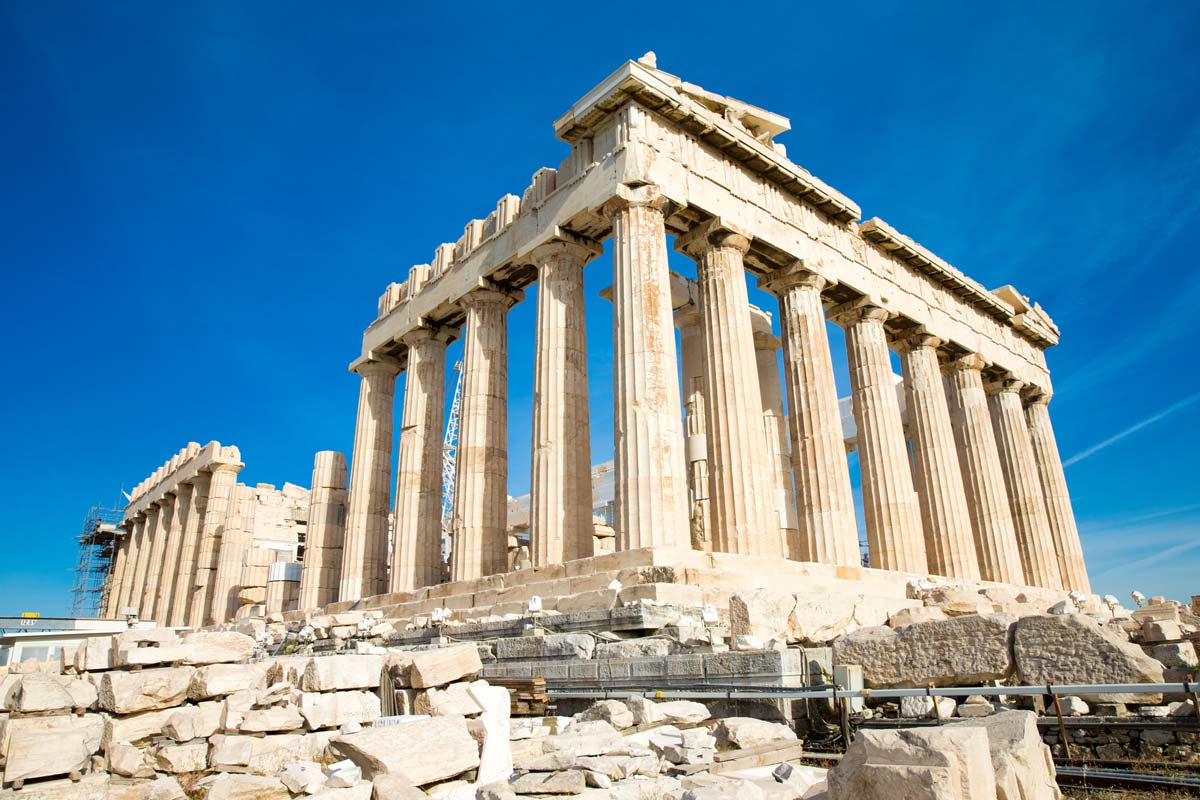 Greece is steeped in ancient beauty and history that is still very much alive in the country today.
Athens, the capital city, is perhaps the most famous Greek destination worldwide, known for being the birthplace of the Olympic games.
When you visit Greece, you get the chance to tick historic destinations like these off your bucket list!
6: Easy Booking
We can't speak for other countries, but booking your wedding in Greece is a sinch.
Once you've chosen your venue and date, you're just a few clicks away from confirmation.
Why get married in Greece? If you're still not convinced, let's move on…
Now, onto the main event – here is our selection of the best wedding destinations in Greece, and why you should consider them for your big day!
Thankfully, there's no shortage of options if you're looking to plan a Greece destination wedding.
However, here are 12 of our favorites to make your shortlisting process a little simpler!
1. Santorini Wedding Chapel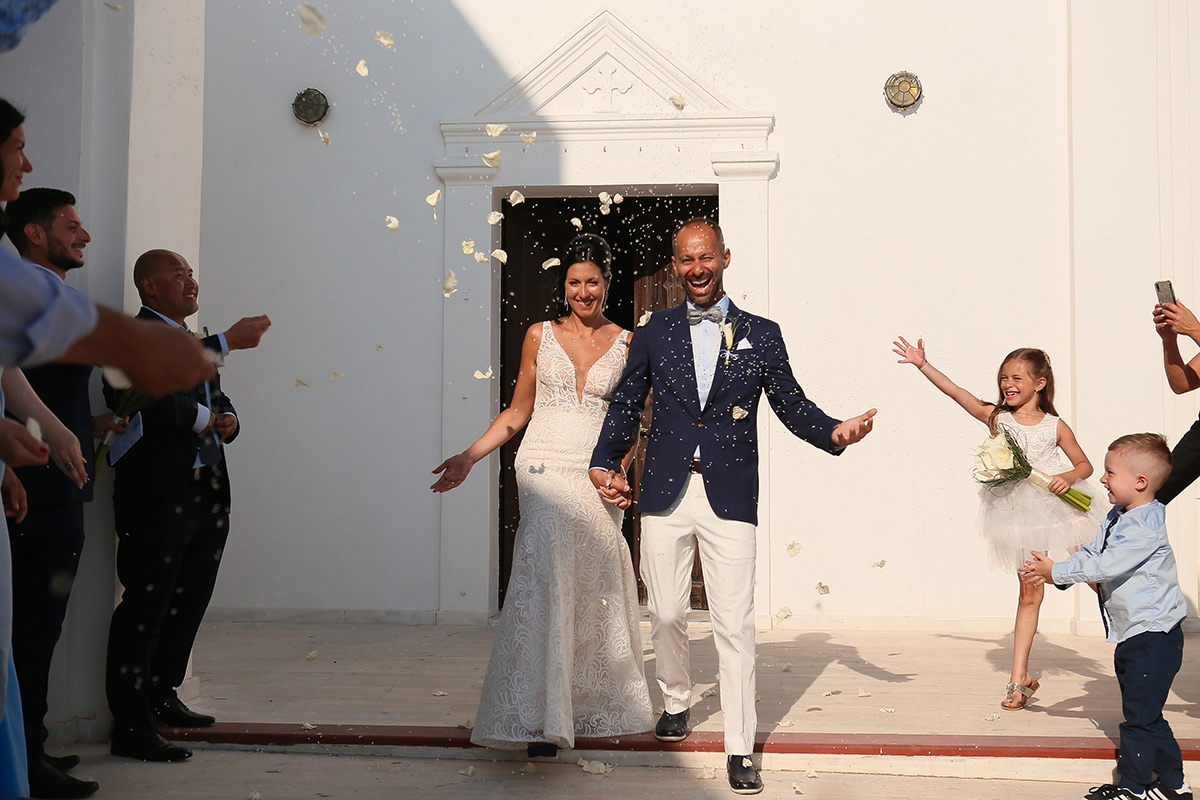 If you want to get married in Greece, without sacrificing tradition, then Santorini Wedding Chapel could be the perfect choice for you.
This charming church features Santorini's signature blue dome design, and you can host both your wedding and your reception here within one fairly priced Greek wedding package.
2. Casa Playa Beach, Zakynthos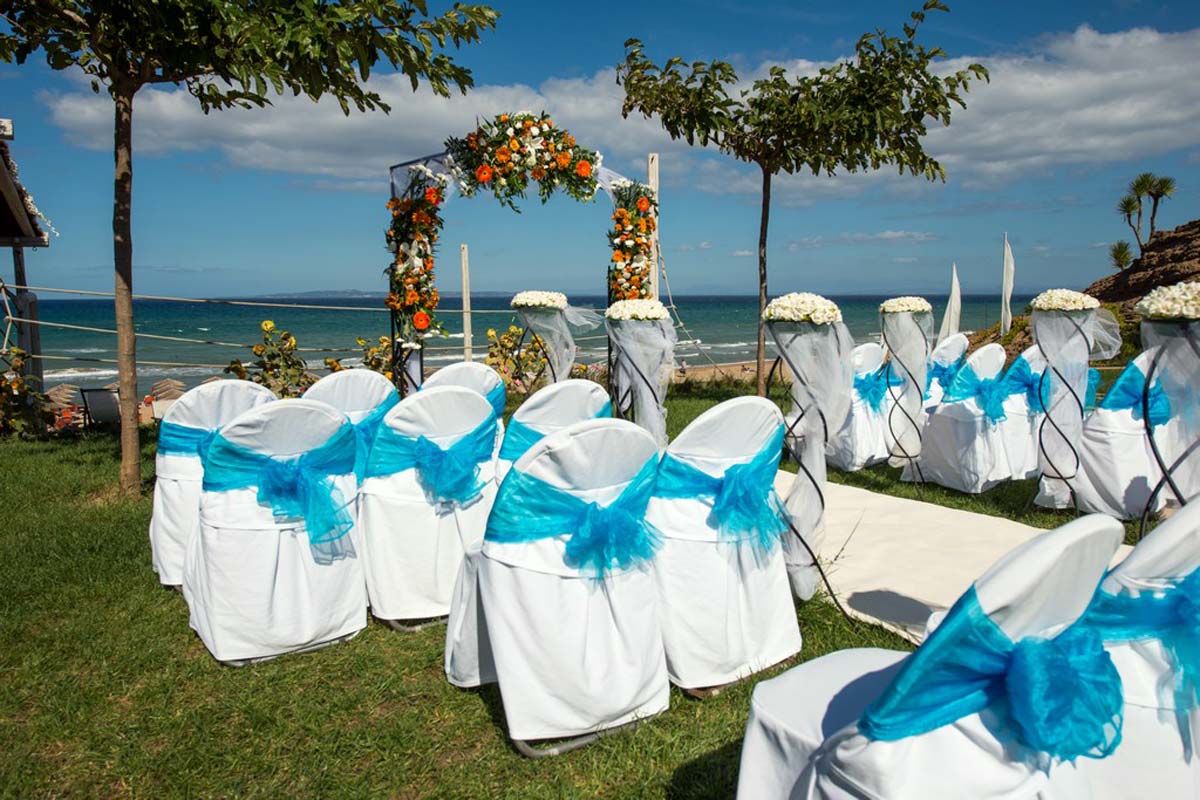 Always dreamed of a beach wedding?
Then Casa Playa Beach could be the ideal setting for you.
Party the day and night away with the sand below your feet, accompanied by spectacular views of the sea and Greek's world-famous sunset on the horizon.
A romantic Greek wedding destination if there ever was one.
3. Caldera Hotel Venue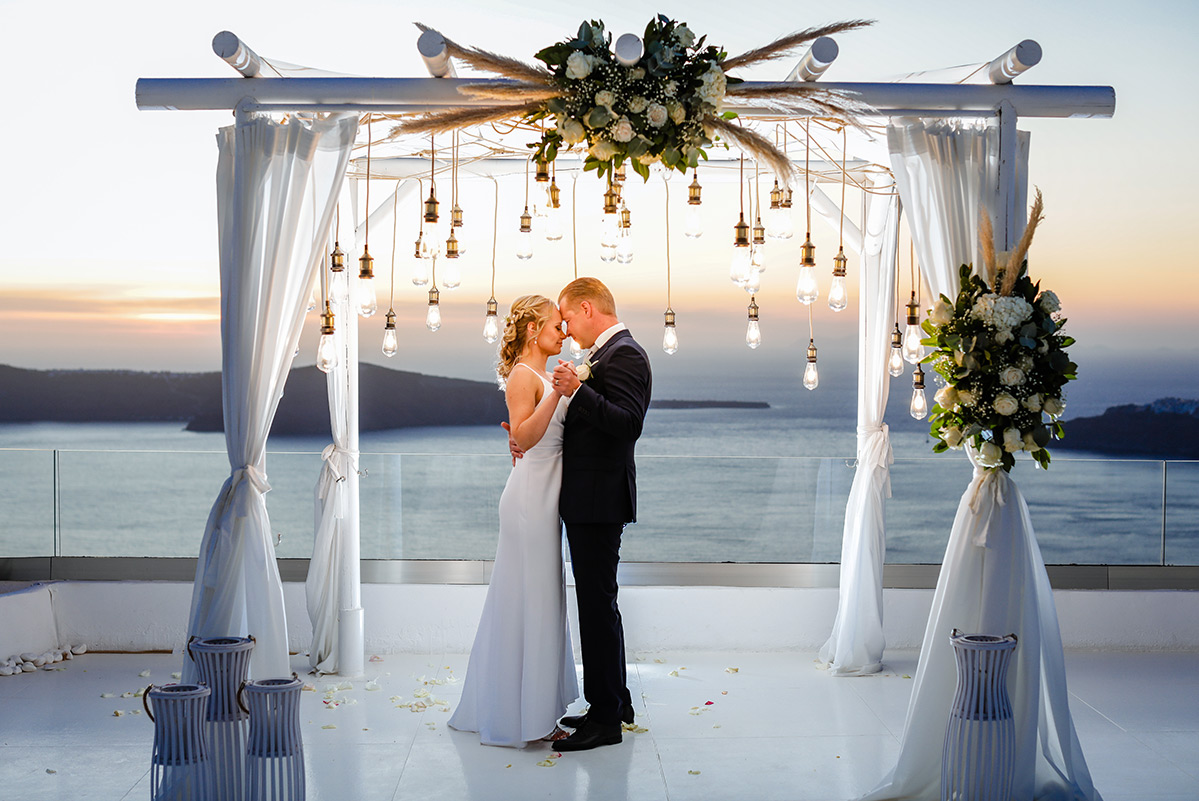 You have one moment to create memories that last a lifetime, and the Caldera Hotel is sure to make those memories priceless.
This idyllic outdoor Greek wedding venue promises a picture-perfect backdrop for your special day.
It's your own little slice of paradise in Santorini, Greece.
4. Agreco Farm, Crete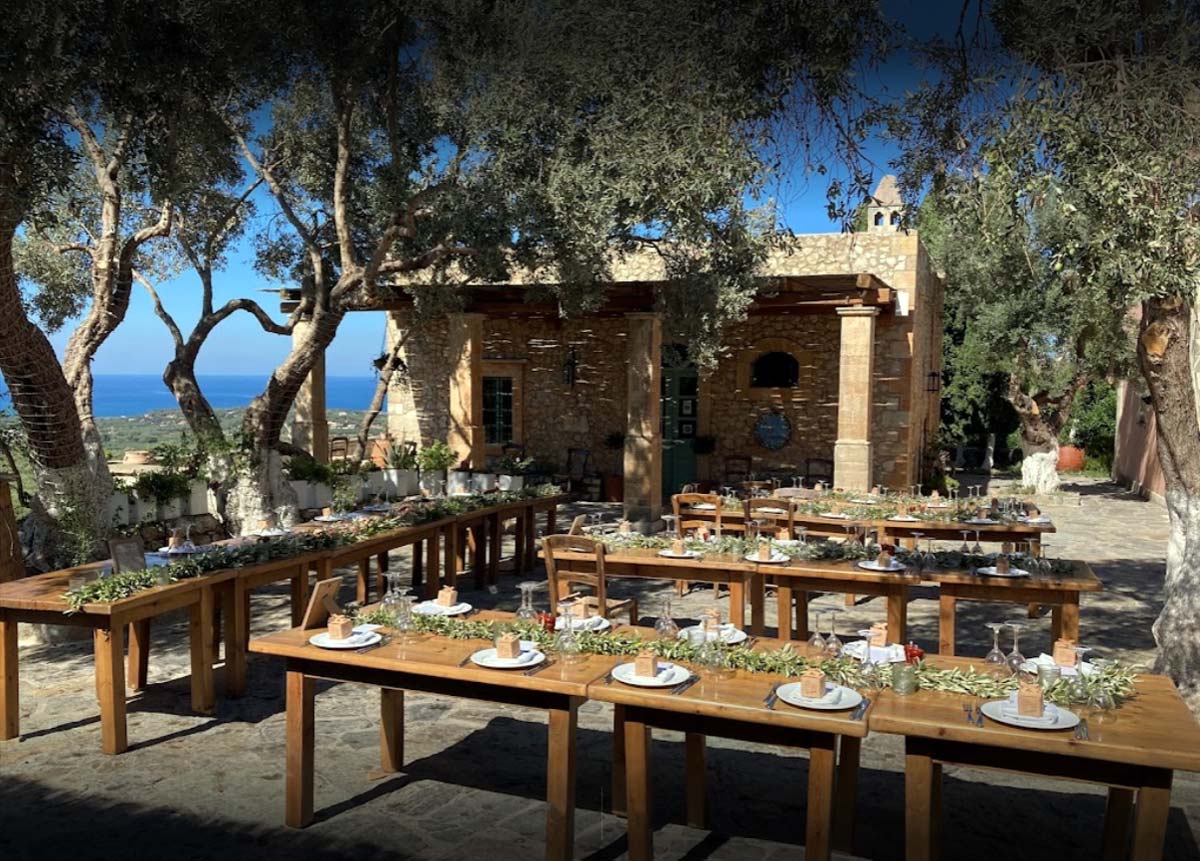 Want to go more rustic?
The quaint Agreco Farm has all the right ingredients for a relaxed countryside wedding in Greece.
Enjoy spectacular views from the hilltop near the small village of Adelianos, with an on-site chapel and outdoor dinner arrangements.
5. Sail Away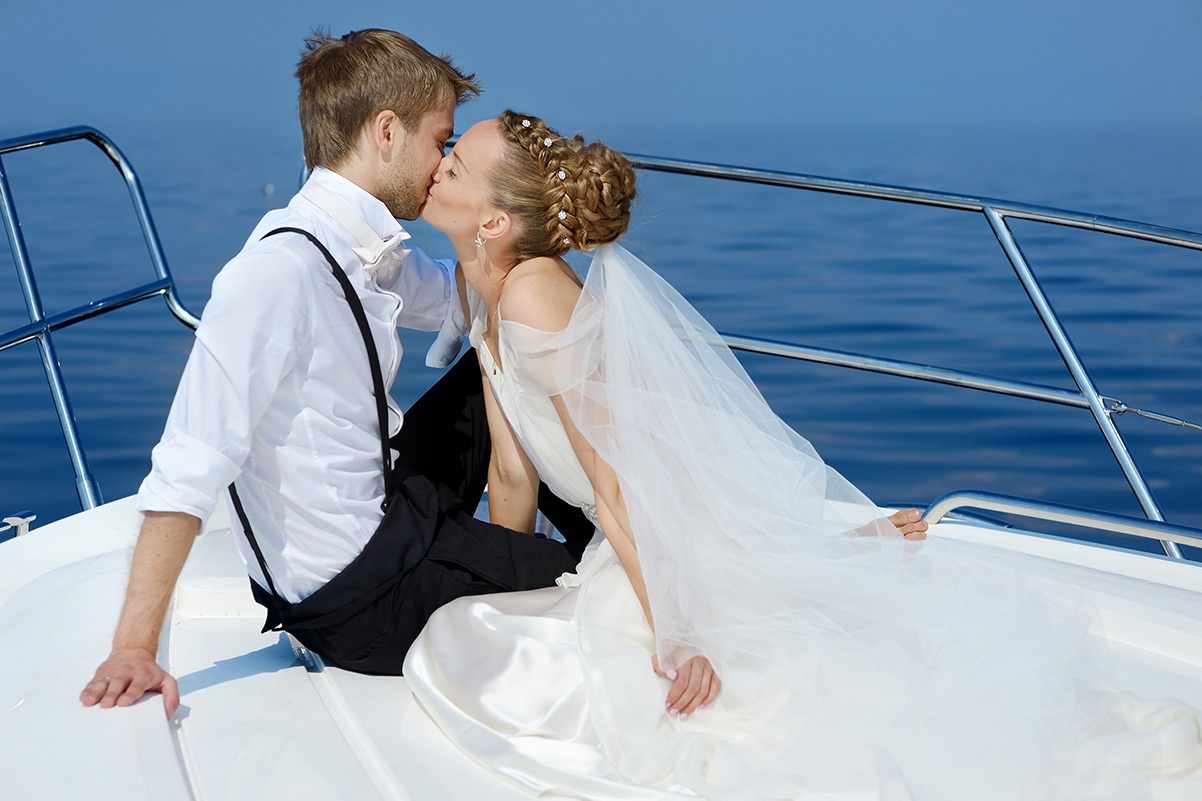 Why stick to tradition by getting married on land at all?
In Santorini, you can get married on a boat!
Unique & Forever, Santorini wedding planners, can help you plan an exclusive yacht ceremony and reception on your own private boat.
6. Argithea Winery Estate, Paiania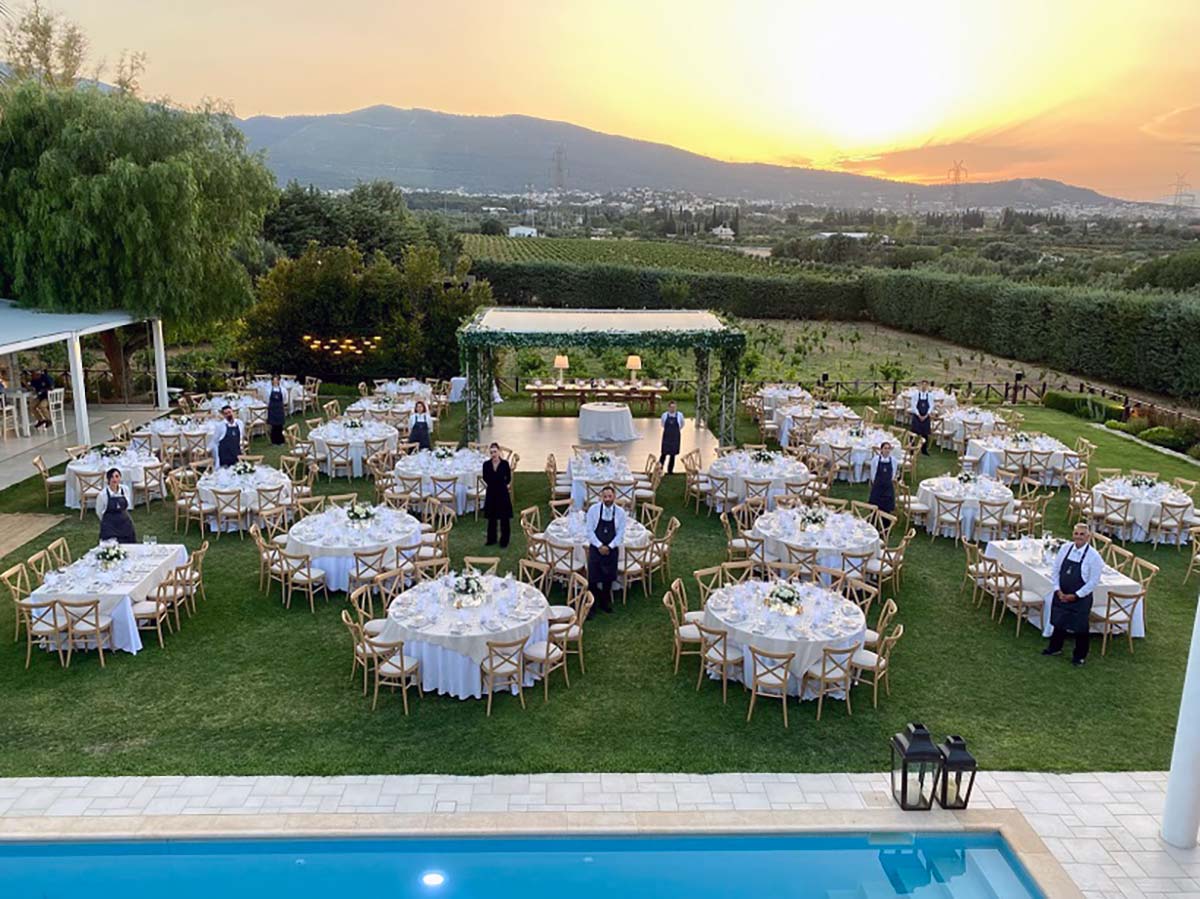 If you, like so many of our brides and grooms to be, are crazy about wine, then why not make it the entire theme of your wedding?
Nestled in the heart of Kantza near Athens, Argithea Winery Estate offers a simple yet deluxe backdrop for your big day.
Wine and dine in luxury in a truly enchanting Greek wedding venue.
7. Blue Beach Venue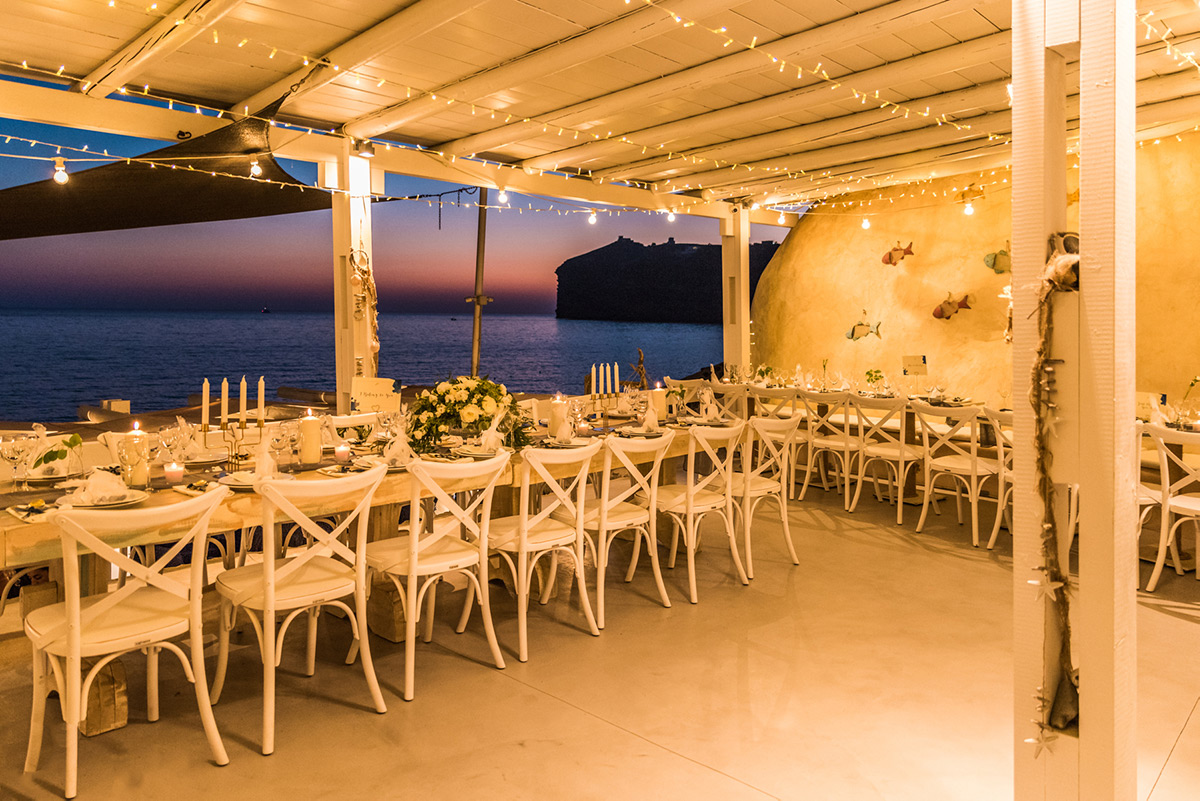 Immerse in the ultimate blend of nature and luxury at the Blue Beach Venue!
Hailed as one of the best places to get married in Greece, Blue Beach offers dramatic scenery you'll be hard-pressed to find anywhere else.
Let the energy of Santorini's volcanoes invigorate your event as you party until the early hours of the morning.
8. Deda Estate, Thessaloniki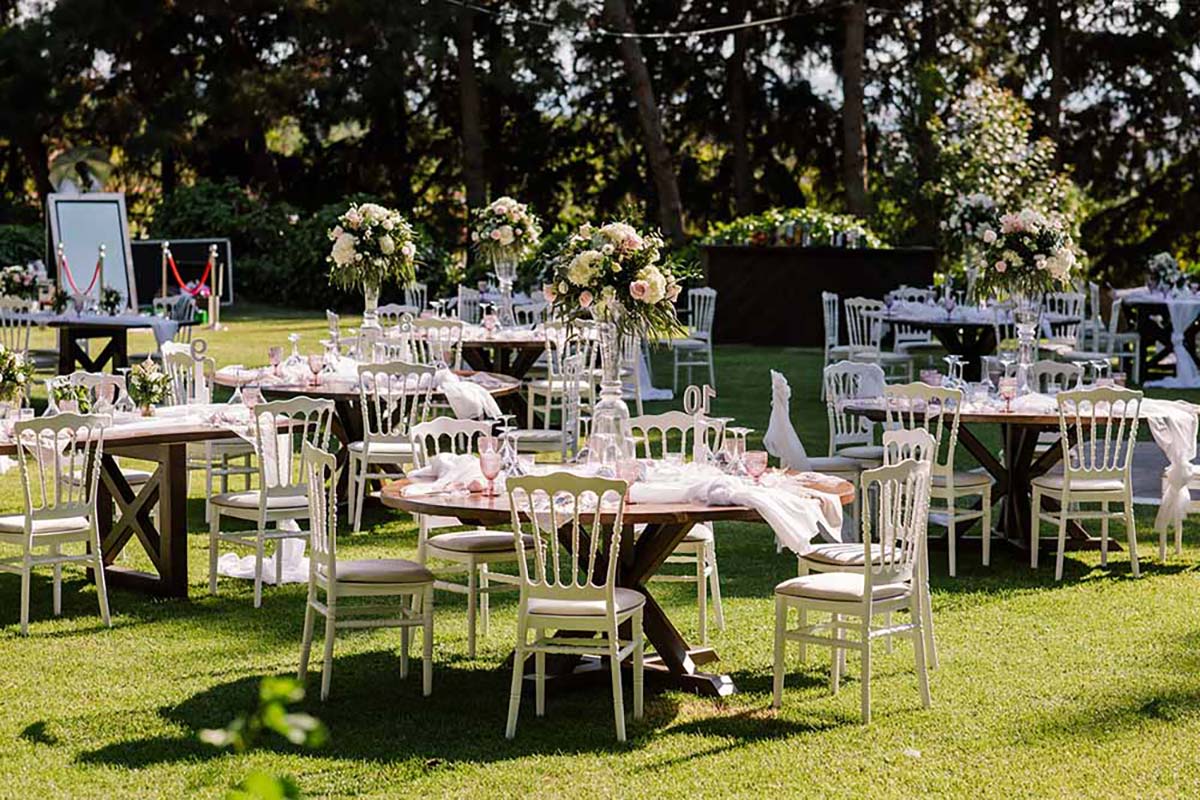 This gorgeous estate and equestrian club lets you celebrate your wedding in Greece under one roof (literally!).
With an on-site chapel and country-style hall, you can drastically cut your transportation costs and time by keeping everything in one stunning 5-star venue.
9. Santo Wines Winery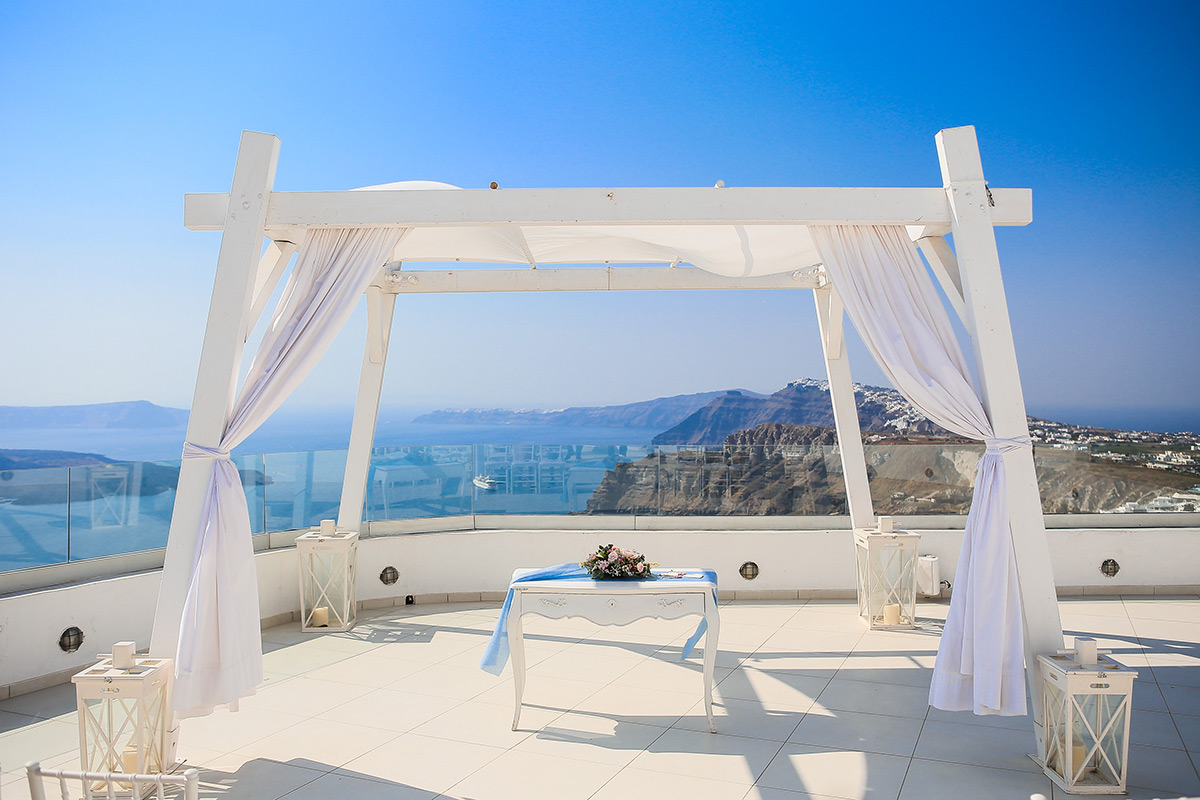 Imagine getting married in Greece with picturesque views of the caldera cliffs.
Imagine sipping on some of the finest wine in the world, as you celebrate your ceremony and reception in one place.
At Santo Wines Winery, there's no need to imagine!
Located in Pyrgos Village, this Greek wedding venue offers an unspoiled volcano view and the authentic volcanic flavors of Santorini.
10. Cameo Island, Zakynthos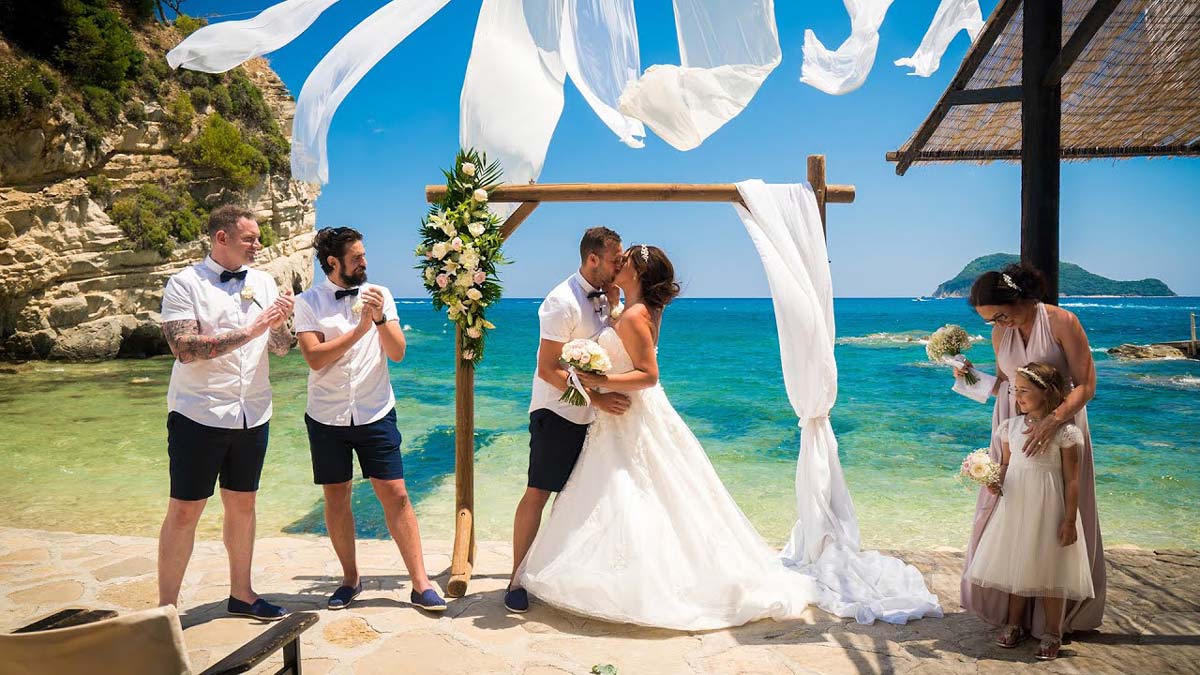 Been dreaming of an island wedding since you were a little kid?
Cameo Island can make your fantasy a reality!
The beach is available for hire for private wedding ceremonies on the ocean.
Accessible via footbridge, this unassuming islet is ideal for intimate weddings in Greece where every moment will be etched in your memory forever.
11. Luxury Venues on Santorini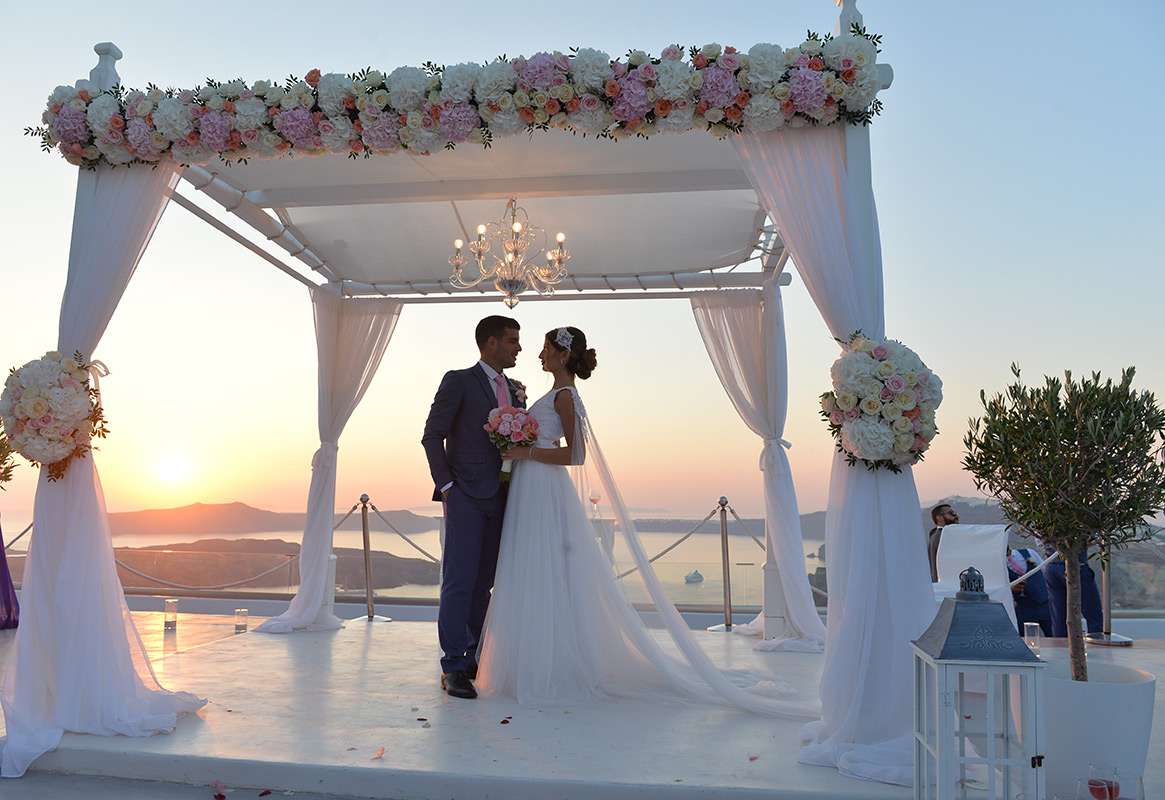 If you're dreaming of getting married at a more luxurious wedding destination in Greece, this option could be just what you're looking for.
With their commitment to glamor, style, and quality, these are undoubtedly some of the most prestigious and famous wedding venues in Greece.
They're known for their lavish ceremonies and extraordinary receptions that guests won't soon forget.
12. Church of Agios Ioannis, Skopelos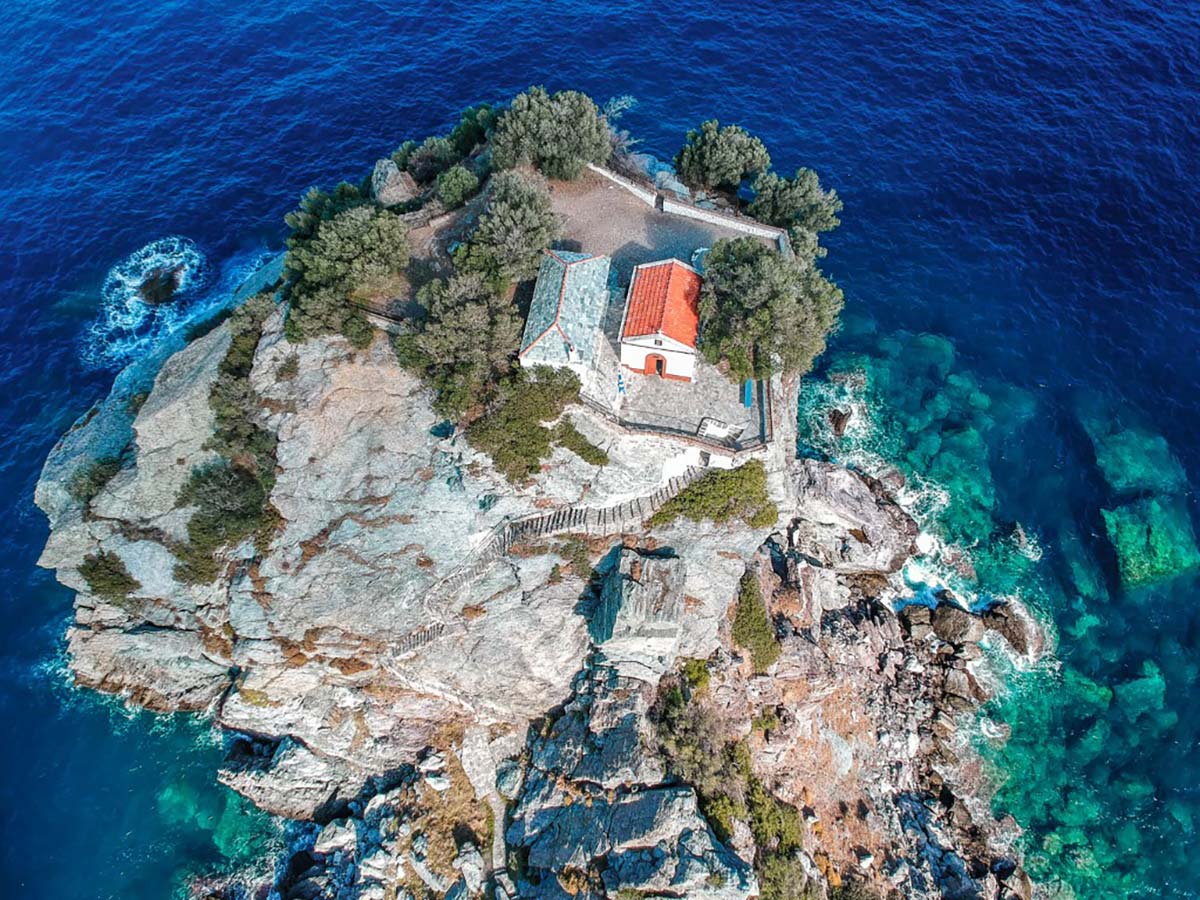 Warning: This one might not be appropriate for anyone with a fear of heights!
This once-in-a-lifetime opportunity lets you tie the knot on an actual clifftop!
Perched atop a rock in the ocean, the Church of Agios Ioannis is a romantic Greek wedding destination if there ever was one.
Immerse in striking views of Greece from above and walk away with picture-perfect memories to last a lifetime.
Your Questions – Answered
Here are answers to some of the questions we get asked the most!
Q: How much does a destination wedding in Greece cost?
A: This depends on which Greek wedding destination you choose, as well as factors like how many guests you'll have, which day of the week you'll be getting married on, and more. However, on average, Greek weddings typically cost around $19K - $20.
Q: How do I plan a destination wedding in Greece?
A: While you could do it all alone, this is more often than not a recipe for disaster. Anything can go wrong, which you can't afford when it's your special day! As experienced Santorini wedding planners, we at Unique & Forever encourage our clients to focus on what they do best, while we do the same – and for us, that's helping you plan an unforgettable destination wedding in Greece!
Q: When is the best time to get married in Greece?
A: Before planning your wedding in Greece, it's best to choose what month you'd like to do so. If great weather and infinite sunny days are top of your list, then try to plan your Greek wedding sometime between March and November. May, June, and September in particular usually have plenty of sun, without too much rain or heat.
Why Unique and Forever?
Unforgettably Romantic Greek Wedding Destinations!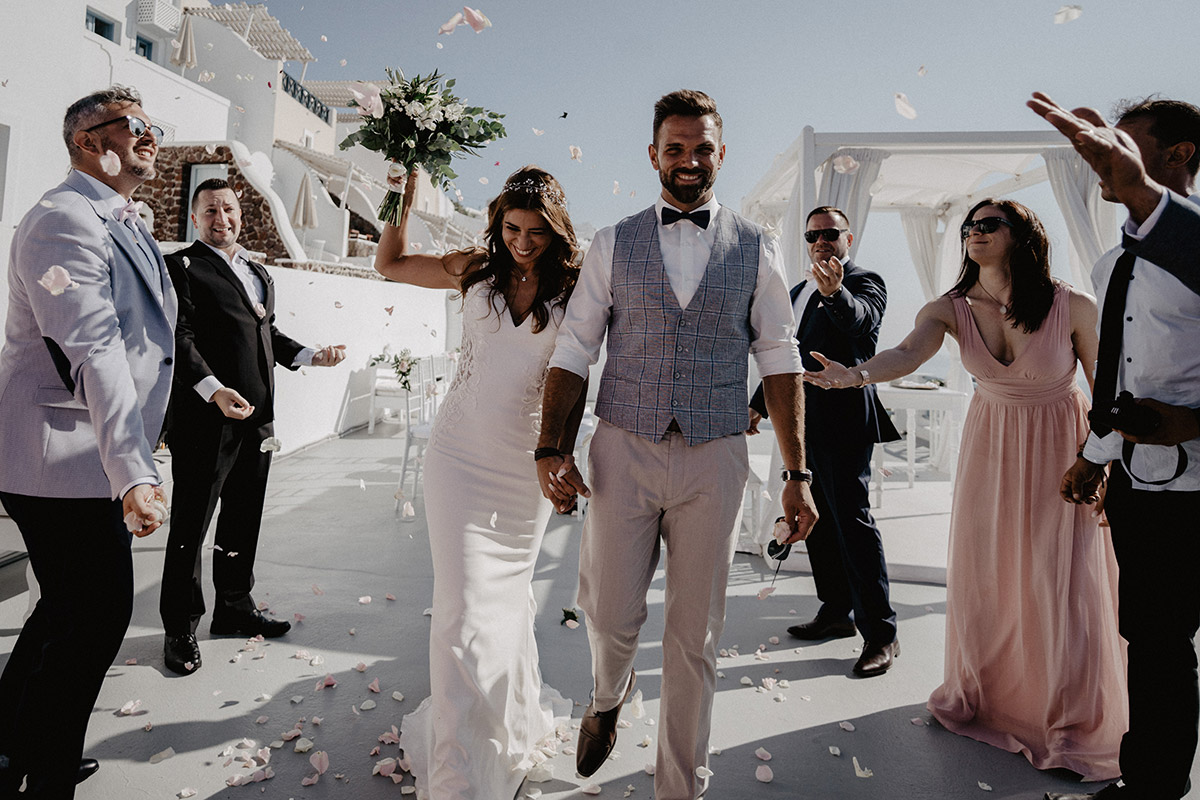 With experience in planning and styling over 300 custom weddings in Greece to date, we know what it takes to make each special ceremony one to remember.
No matter what kind of wedding you have in mind, we have the team, tools, and resources to make it happen.
We pride ourselves on organizing weddings in Greece at any location you're dreaming of.
Whether you have a Santorini elopement in mind, an intimate gathering with family and friends, or a huge party with 100+ guests, your wedding wish is our command.
We work closely with each bride and groom to be to make sure your wedding dreams come true.
Together, we can tailor your Greek wedding package to feature everything you need and nothing you don't.
Contact us today to share your dreams with us. We can't wait to make them your unique reality that lasts in your memory, forever!